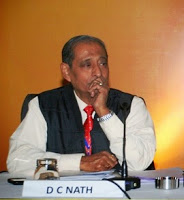 President of Patriots Forum, D.C. Nath was superannuated in January, 1995, as the Special Director, Intelligence Bureau, D.C. Nath (IPS-1960) was associated with the International Institute of Security and Safety Management (IISSM), headquartered in New Delhi, for over 14 years, first as the Executive President & CEO and then as the President & Director General, between February, 1997 and March, 2011. The author of a highly acclaimed book, Intelligence Imperatives for India, Mr. Nath earned high plaudits from all around for two of his very significant presentations on: "Revisiting the Future of India" (2005, London) and "Lessons from India for the War On Terrorism" (2007, USA). He is the only one in the field, combining the experiences of a police officer with specialization in intelligence and strategic analysis and an industrial security expert par excellence. More Bio on D. C. Nath…
News Research & Analysis Files
Difference Between India And China

 << Download Link
OPINION>>>>
November 26, 2014
Dear Friends,
Subject: Sanskrit And Sanskrit All The Way
In response to our mail sent out on November 25, 2014, our good old Indian 'sadhak' Maria Wirth has forwarded what she had written with the title "Difference between India and China" as early as in 2013. It is yet another master-piece from her, putting us to shame how little we know when we think we have done something big. We are confident all of you would enjoy reading her paper in the attachment.
We have taken the liberty of changing the title, as above, to suit our contention on Sanskrit and its greatness. In the process, we have left out the interesting comparison Maria has made between the Chinese approach and ours to drive home where we lack and lack in badly.
On the issue of Sanskrit and Indic civilisation Maria observes:
"Again, I was missing India. India is the cradle of civilization, it has Sanskrit, the language which, according to NASA, helps develop the brain apart from being a perfect language, it has the deepest philosophy still expressed in a vibrant religion, a huge body of literature, amazing art, dance, music, sculpture, architecture, delicious cuisine and yet Indians are in denial mode and wake up only when foreigners treasure India. They don't seem to know the value and therefore don't take pride in their tradition, unlike westerners who take a lot of pride in theirs even if there is little to be proud of."
Then, Maria shares her experience of great doing by an illustrious son of India Rajiv Malhotra, who, sitting in the US, has been fighting a continuous battle to expose western conspiracy to belittle India and simultaneously promoting Indic studies in the West. It is like this:
Quote (.)
"An example that Rajiv Malhotra gave IIT students in Chennai recently illustrates it. Malhotra was a successful NRI businessman who retired early to set up the Infinity Foundation promoting Indic studies in the US. In 2005, the Crown Princess of Thailand wanted to have a World Sanskrit Conference. She herself was a Sanskrit student, had sent her sons to India to learn Sanskrit, had brought out a Journal on Sanskrit and wanted to start a Sanskrit College. A professor from Delhi University was organizing the conference for her, but to his dismay, the Indian government did not want to sponsor it. He felt it was embarrassing, as many of the eastern countries, including Thailand, look to India as their mother civilization. And here is this mother not taking any interest. So he frantically called up Malhotra, asking him to help save face. His Infinity Foundation agreed to sponsor the event. The program was set, when a few days before the start, the Indian HRD minister suddenly woke up and wanted to inaugurate the conference. A compromise was reached and both, Malhotra and the HRD minister, represented the Indian side. The conference was a success and the Indian Embassy in Bangkok gave a reception. Malhotra asked the young diplomats there about the Indian foreign policy in regard to projecting Indian civilization as an asset, as soft power, as something of value in Asian countries. They were taken by surprise. "Sir, we don't have any policy like that. We are a secular country", the diplomats proffered. Malhotra wondered what this has to do with secular. "There is a demand, so you should supply it", he suggested. "Set up Colleges of Sanskrit, of Indian thought, of dance, etc. It will also help in trade, in technology, in setting up business in these countries."
Unquote (.)
Maria observes, "There is a demand for Indian thought and culture not only in Asian countries; it is there in Western countries, too, though maybe still unconscious. It would bring fresh air in the fixed thought structures that make westerners believe that there is either a god or no god, that one has the choice only between believing what has been written in a 'holy book' and being an atheist."
Her suggestion is worth mulling over:
"Give students a chance to delve deep into original Indian thought in Sanskrit, bridge the gap between academics and Sanskrit pandits, between universities and gurukuls, and let the students go abroad for a couple of years. They may turn out to be good ambassadors for India and may actually love the idea of being sent abroad. Never mind if they get disillusioned there."
Well, friends, we really feel moved how competently indeed she has expressed her genuine feelings on our failures, strong points and then offers such a forward looking suggestion, easy to implement if have the mind to do so. As before, we are sharing today's mail also with the HRD Minister and Secretary for information and use, as felt appropriate.
And, finally, sincere kudos to Maria again from and on behalf of all of us.
Well, Maria, please do keep us enlightened. We are indeed deeply grateful to you.
Vandemataram,
Your sevak,
D.C. Nath
(Former Spl. Director, IB)
(President, Patriots' Forum)
9811995693
Forwarded:
1. HRD Minister
2. HRD Secretary
For favour of information and action as deemed appropriate.
D.C. Nath
Source: Patriot Forum
Disclaimer: The opinions expressed within this article /news /published content are the personal opinions of the submitting author / organization. World Hindu News  is not responsible for the accuracy, completeness, suitability, or validity of any information on this article /news/published content. All information  received is provided on an as-is basis. The information, facts or opinions appearing in the article / news /published content do not reflect the views of World Hindu News and World Hindu News does not assume any responsibility or liability for the same.​