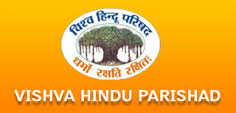 The Vishwa Hindu Parishad (VHP) on Tuesday came out in defence of external affairs minister Sushma Swaraj on her comments about the Bhagwad Gita that had set the political arena aflutter.
VHP leaders backed Ms Swaraj saying the Bhagwad Gita was the greatest scripture in the world and should be respected.
"The Bhagwad Gita is the greatest scripture in the world. We support Ms Swaraj on her statement to recognise the Bhagwad Gita as the national scripture," VHP leader Venkatesh Abdeo said at a press conference in the city.
Ms Swaraj's statement had attracted a lot of flak from Opposition parties, who claimed that it could harm the secular fabric of the nation.
The VHP is organising a Hindu gathering on December 14 at BKC and has invited Hindu saints and leaders. Mr Abdeo said that followers of Jainism, Sikhism and Buddhism too would participate in the gathering. "The event has been organised with the vision of unity among the Hindu community. Several social service announcements involving donation of the eyes and other body parts, planting trees in villages that lack in adequate forest cover etc. will be made on the occasion. Some demands will be put forth to the state and central governments as well," he added.
Pushing its rhetoric of removing loud speakers from Masjids to prevent noise pollution, the VHP, however, opposed the ban of loudspeakers during Hindu festivals.
"Noise pollution in Masjids is throughout the year. But Hindu festivals are only celebrated on a few days of the year," he said.
The VHP also demanded that the four major temples of Maharashtra i.e. Siddhivinayak, Shirdi's Saibaba, Pandharpur's Vitthal and Tuljapur's Tuljabhavani temples should be brought under the Hindu Trust and not the government.