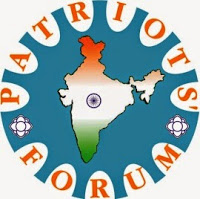 Dear Enlightened Readers,
Global developments have been overshadowed by grim acts of brutality:
• Islamist terrorists shot dead 12 men of the French satirical magazine Charlie Hebdo;
• Boko Haram in Nigeria again killed over 100 hundred indiscriminately;
• Sri Lanka gets a new President on January 9;
• President's Rule imposed on Jammu and Kashmir in the absence of no party or alliance being able to muster majority to form government;
• Pravashi Bharatiya Divas held in Gujarat on January 7-9;
• 102th session of the Indian Science Congress held in Delhi; the prime theme for discussion was relation between Science and Sanskrit. This has never happened before;
• Battle-field hospital coming up at Chhattisgarh for the CRPF;
• The government is issuing coins to honour Jamshedji Tata, the first modern-day industrialist, on the occasion of his 175th birth anniversary. We join in paying our humble "pronam" to him.
Thanking you & with regards,
Yours sincerely,
D.C. Nath
(On behalf of the Patriots' Forum)
79PF Weekly Newsletter <== Downloadable PDF File
Source: ​Patriot Forum
Disclaimer: The opinions expressed within this article /news /published content are the personal opinions of the submitting author / organization. World Hindu News  is not responsible for the accuracy, completeness, suitability, or validity of any information on this article /news/published content. All information  received is provided on an as-is basis. The information, facts or opinions appearing in the article / news /published content do not reflect the views of World Hindu News and World Hindu News does not assume any responsibility or liability for the same.​