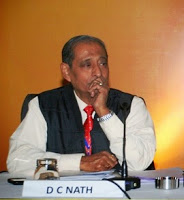 President of Patriots Forum, D.C. Nath was superannuated in January, 1995, as the Special Director, Intelligence Bureau, D.C. Nath (IPS-1960) was associated with the International Institute of Security and Safety Management (IISSM), headquartered in New Delhi, for over 14 years, first as the Executive President & CEO and then as the President & Director General, between February, 1997 and March, 2011. The author of a highly acclaimed book, Intelligence Imperatives for India, Mr. Nath earned high plaudits from all around for two of his very significant presentations on: "Revisiting the Future of India" (2005, London) and "Lessons from India for the War On Terrorism" (2007, USA). He is the only one in the field, combining the experiences of a police officer with specialization in intelligence and strategic analysis and an industrial security expert par excellence. More Bio on D. C. Nath…
OPINION>>>>
June 18, 2015
Dear Friends,
Subject: An Extraordinary Genius From Indian Soil, The World Knew. Few Indians Knew But Now?
The person we are referring to is none other than Acharya Dr. Satyendra Nath Bose (b. January 1, 1894—D. February 4, 1974, Calcutta), a rare scientific genius of Indian origin. Eminent scientists of his times, including people like Laue, Einstein, Ato Haun, Sraydinger, Plank, Lease Mittner, Brogley and others used to listen to his lectures with respect.
Once when Satyen's mother, seeing him destroying useful papers, and tearing off pages from books, rebuked him, he almost casually answered, "Mother, I have read them, I remember what was in these papers, and so I do not need these papers any more". Such indeed was his phenomenal memory. It used to happen with his research also. Once he had solved a very difficult problem, he did not have any more interest in the matter like sending the papers to science journals, etc.
Once Dr. Meghnad Saha, another scientific giant of his time, spoke of an extremely difficult equation, underlining that nobody in the world had yet found a solution to that. Dr. Bose took note of the equation and gave Dr. Meghnath the solution in 2-3 day's time. incidentally, His academic records in Calcutta University still remain unbroken in the 133 years of its existence.
A rare genius in the scientific world, Bose was an equally great humanitarian, examples of which galore. It is said he truly justified Vivekananda's philosophy of service to man is the greatest form religion.
Acknowledging his rare talents, who was truly an Acharya, Albert Einstein paid the best compliments to Dr. Satyendranath: "Asti Kasti Samaan Dharma".
Well, Friends, we are sure we can count the numbers people in India having even heard of Dr. Satyen Bose. This country has produced a world-class genius, whom, we felt, the nation ought to know. We considered it to be a privilege to contribute a little in that direction.
(Note: The reference is the excellent write-up in Bijan Kumar Ghosh' regular column on p.6 in the Bengali daily from Kolkata, "The Dainik Statesman" of June 16, 2015.)
Vandemataram,
Your sevak,
D.C. Nath
(Former Spl. Director, IB)
(President, Patriots' Forum)
Source: Patriot Forum
Disclaimer: The opinions expressed within this article /news /published content are the personal opinions of the submitting author / organization. World Hindu News  is not responsible for the accuracy, completeness, suitability, or validity of any information on this article /news/published content. All information  received is provided on an as-is basis. The information, facts or opinions appearing in the article / news /published content do not reflect the views of World Hindu News and World Hindu News does not assume any responsibility or liability for the same.