The 1st International Yoga Day was celebrated on June 21st at Hindu Temple in Casselberry, FL. With the help of volunteers and yoga enthusiasts, the event was a success. A large number of Yoga masters  from Central Florida presented various yogasana routines. It was a day long event packed with presentations and demonstrations.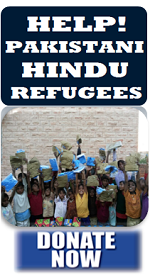 Pakistani Hindu refugees mostly Sindhis from Sindh Province  need Sewing Machine Units for Women employment and medical aid alongside water filters, tents. Many senior refugees have died due to medical aid shortage. They are receiving Visa support from Indian Govt. All donors receive report inc. receipts, pictures and donation press releases. Please include your email and phone in your donation envelop.  PHRRP is a joint program of US based Hindu Org.
DONATIONS FROM USA, CANADA, LATIN AMERICA, EUROPE 
VIA. CHECK 
Please mail check payable to 
GLOBAL HINDU FOUNDATION INC.  
5773 WOODWAY DRIVE STE 86  HOUSTON  TX  USA  77057 


The Modi regime of India must declare in unambiguous words to the world and Pakistan that J&K State is an integral part of the Republic of India and undertake its immediate reorganization for providing the local ethnic minorities their own autonomous regions administered directly under the Constitution of India, said DIVERSITY-USA in a policy statement here today.
We urge you all to take part in the first ever Hindu Report UK Questionnaire/Survey. It will take no more than 10 minutes of your time to fill in. The Hindu Report UK (2015) is a first ever endeavour to present the views and thoughts of the Hindu Community on Hinduism in current times.
At the present time, we Hindus are in great danger. Even though many Hindus find solace in the fact that Hinduism still remains the third largest religion in the world, and go about their business of making money and enjoying their luxuries, the undeniable truth is that Hinduism is in great danger..
Rep. Tulsi Gabbard (D-HI) is set to introduce a resolution to the House floor in support of International Yoga Day and another that would address religious freedom in Bangladesh. On Monday, Members of Congress and staffers were invited to join the Hindu American Foundation for "Yoga on the Hill," in commemoration of International Yoga Day. The session was meant to provide a time and space for stressed out federal employees to feel the benefits of the ancient Hindu practice.
Unlike other rescue-relief Organizations that converged on Nepal in the aftermath of earthquake, 'Ekal Vidyalaya' already had deep roots in Nepal for years and therefore had personal stake in rebuilding this nation and its lives. As of April'2015, Ekal had 1,500 schools operating in Nepal's rural areas.
Days earlier in California, six students of Irish origin and one Irish American died when the apartment balcony they were standing on collapsed. Days later New York Times published a racially motivated article on how J1 Visa system is being exploited by Irish students from Europe and the ruckus they create in America.
Yoga has a religion : it is Hinduism
My immediate response to the assertion that '
Yoga
 has no religion' is a flat denial. Because I know 
Yoga
, Yoga is a friend of mine and I can truthfully attest to the fact that Yoga does indeed have a religion. He's a 
Hindu
. Therefore anyone making the claim that Yoga has no religion is either ignorant or is a liar (maybe both) since it is categorically and emphatically false. Do I make myself clear?
NEW DELHI: As a first step to granting Indian nationality to some 200,000 refugees from neighbouring countries, the BJP-led government has given citizenship to around 4,300 Hindus and Sikhs from Pakistan and Afghanistan in one year, according to sources.
It is with a heavy heart that I bring the sad news of Sharad Kulkarni Ji's passing away on June 8, 2015 after living for many years with Dementia with Lewy Bodies. His body was  privately cremated in Woodlands Texas. It is a great loss for all of us in the Hindu community. Sharad Ji was a great supporter of VHPA and a very active member of the Hindu Community in Houston. His wife Beth Kulkarni was the president of the VHPA's Houston Chapter and continues to be our advisor and guide.
Hindus are upset at a single malt whisky named as Amrut (which they regard as sacred nectar of immortality), calling it highly inappropriate. Distinguished Hindu statesman Rajan Zed, in a statement in Nevada (USA) today, said that amrut (amrta) emerged from Churning of the Ocean (samudra-manthana), which was highly important part of Hindu faith; and linking whisky to it was trivialization of the oldest and third largest religion of the world with a rich philosophical thought.