Hindus are highly concerned after reports of vandalism of a Hindu shrine in Blanchisseuse village (Trinidad and Tobago), defacement with human filth and destruction of statues of deities and other property.
Houston, TX (August 14th, 2015) – The fifth Hindu Memorial Day was held on August 15th, 2015 at the O.P.Jindal center in India House, Houston, TX. Hindu Memorial Day is an annual day organized by the Hindu Mahasabha of America in remembrance of the freedom struggle..
Nashik, Aug 27 (PTI) The Vishwa Hindu Parishad (VHP) plans to host a Sant Sammelan during the ongoing Kumbh Mela in Nashik and Trimbakeshwar, it was officially announced here yesterday.

Kathmandu : Swami Prapannacharya, a sage of Hindu religious scriptures, especially the Vedas, died 

on Friday

 at an ashram in the Pashupatinath area. He was 92. Govinda Tandon, member-secretary of Pashupati Area Development Trust, confirmed the death. The Swami was suffering from prostate and respiration-related ailments since a decade back.
GUWAHATI: BJP MP from Assam Ramen Deka said granting citizenship to Hindus, who have taken shelter in Assam and other parts of the country following religious persecution in Bangladesh, is BJP's national commitment and the party would fulfill it.
With the news coming in about the Prime Minister's visit to the Juma Masjid in kerala , we would like to bring it to your notice about the background of the Masjid and how big a historic blunder it would be if the prime minister is going to endorse the malicious intention to propagate a history to the people . 
We are on an important mail on the Indian Maoists' future plans and strategies, appearing on p.12 of The Delhi issue of "The Times Of India" of August 10, 2015. The press report is based on an interview with the General Secretary of the party, known as Ganapathy, taken about five months after the present NDA government had taken over.
Ganesha Chaturthi  is celebrated in honour of the god Ganesha, the elephant-headed, remover of obstacles and the god of prosperous beginnings and wisdom. The festival, is observed in the Hindu calendar month of Bhaadrapada, starting on the shukla chaturthi (fourth day of the waxing moon period).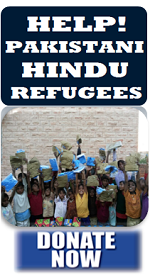 Pakistani Hindu refugees mostly Sindhis from Sindh Province  need Sewing Machine Units for Women employment and medical aid alongside water filters, tents. Many senior refugees have died due to medical aid shortage. They are receiving Visa support from Indian Govt. All donors receive report inc. receipts, pictures and donation press releases. Please include your email and phone in your donation envelop.  PHRRP is a joint program of US based Hindu Org. Please include your email & name.
DONATIONS FROM USA, CANADA, LATIN AMERICA, EUROPE 
VIA. CHECK 
Please mail check payable to 
GLOBAL HINDU FOUNDATION INC.  
5773 WOODWAY DRIVE STE 86  HOUSTON  TX  USA  77057