Sanatan

 Sanstha is an organization spreading 

Sanatan

 

Hindu

 Dharma. Nobody has a right to impose ban or stop its activities. In fact, demand to ban Sanatan Sanstha is wrong, stated 'Pashchimanmay Dwaraka Sharada Peetha and Uttaramnay Jyotish Peetha's 'Pujya' 

Swami

 Shri. Swarupanand Saraswati, while speaking to media persons.
Swami Dayananda Saraswati Ji of Arsha Vidya Gurukulam has attained Mahasamadhi tonight (according to Bharatiya time) at his Rishikesh Ashram on the banks of mother Ganga. It was his desire to leave his body near Ganga Ji.
Archaeologists in Indonesia have uncovered a 1,000-year-old temple that could shed light on the country's Hindu past. The intricately carved statues and reliefs are some of the best preserved in Indonesia, but the dig is being conducted under tight security to protect the site from well-organised relic thieves. 
Tapan Kr. Ghosh , President and founder of Hindu Samhati,  has spent his lifetime rescuing daughters in West Bengal , India who have been kidnapped, raped, converted and sold. Recently he saved a 14 yr old minor daughter called Tuktuki Mondal kidnapped by Islamic fundamentalists and reunited her with her parents. Her story made international headlines.
Why do you write "apart from idol worship"? Too much Christian brainwashing that idols are just stone? Hindus consider the whole universe alive, as ultimately Brahman. Nothing wrong in taking the help of a 'form', a murthi, to feel closer to the Divine by worshipping it.
Patidar Samaj of Gujrat, living in USA, gives a wholehearted welcome to the Great Prime Minister of India, Shri Narendra Modiji, during his upcoming visit to USA. Patidar community of the United States has unanimously opposed the proposed rally against Indian Prime Minister Narendra Modi at the United Nations on 25th September. 
Dear Doctor,  "Neutrality helps the oppressor, never the victim, silence encourages the tormentor, never the tormented"  – ELIE WISEL –  I most earnestly request you to consider taking this matter to the Indian Rajya Sabah and take necessary steps to explain the situation in Sri Lanka. Even after the regime change there is no improvement.
If you have more than 16,845 idols of Ganesha, you are bound to walk into record books! This is what has happened to P. Shekhar, whose lifetime love affair with the idols of the elephant God has earned him a rightful passage into the Guinness Book of World Records for dedicating his life to collecting rare and unique idols of Ganesha.
Opinion: D. C. Nath (President, Patriotss Forum) -Debating Veda Dates
President of Patriots Forum, D.C. Nath was superannuated in January, 1995, as the Special Director, Intelligence Bureau, D.C. Nath (IPS-1960) was associated with the International Institute of Security and Safety Management (IISSM), headquartered in New Delhi, for over 14 years, first as the Executive President & CEO and then as the President & Director General, between February, 1997 and March, 2011.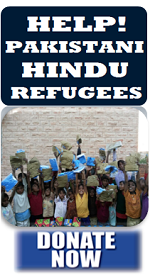 Pakistani Hindu refugees mostly Sindhis from Sindh Province  need Sewing Machine Units for Women employment and medical aid alongside water filters, tents. Many senior refugees have died due to medical aid shortage. They are receiving Visa support from Indian Govt. All donors receive report inc. receipts, pictures and donation press releases. Please include your email and phone in your donation envelop.  PHRRP is a joint program of US based Hindu Org. Please include your email & name.
DONATIONS FROM USA, CANADA, LATIN AMERICA, EUROPE 
VIA. CHECK 
Please mail check payable to 
"GLOBAL HINDU FOUNDATION"
5773 WOODWAY DRIVE STE 86  HOUSTON  TX  USA  77057