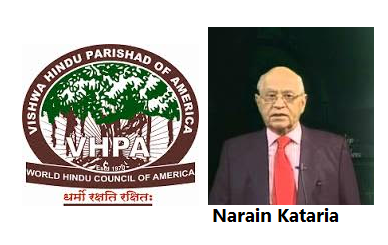 Namaste
It is with a heavy heart that we share the news of the dehant of one of our most dedicated, fearless, pioneering, and respected VHPA Governing Council members, Narain Kataria Ji. As many karma yogis do, he passed away peacefully and silently in his sleep on Nov 2. He was 85-years-old.
He was a true kshatriya in deed. Consumed by the welfare of Ma Bharti and the Hindu community worldwide, he fought till his last day. He inspired, organized, and supported thousands of Hindus and Hindu organizations in North America and around the world. Even to the last minute Shri Kataria ji was fighting to uphold justice for Hindus. On November 02, 2015, in an interview given to ITV, he very strongly articulated, with examples, that the Hindu society has always been "inclusive" and that the reports of "intolerance" in the media were one sided. He established the Indian American Intellectuals Forum, and as its president, enrolled the active support of many intellectuals for the cause of Ma Bharti and Hindutva. 
Whenever there was a problem for Hindu society in any part of the world, this forum would take the lead, organize protests, sending thousands of e-mails and petitions to the concerned authorities. Through this forum, he strengthened Indo-American relations and created an awareness amongst Americans, educating them about the menace of terrorism all over the world. Through this forum he organized every year "HINDU UNITY DAY" in New York which has become a feature for the last 20 years.  
He served as a member of the Governing Council of Vishwa Hindu Parishad of America (VHPA) and Organizing Secretary of Hindu Swayamsevak Sangh (HSS) for New York State.  Narain Ji had Master's degree in History.  He was a survivor of the partition of Bharat in which millions of Hindus were killed.  After retirement from a prominent Law Firm in New York  in 1998, he had been working 24/7 for Hindus. Shri Katariaji was conferred the award of 'HINDU MANI" by SHIKSHAYATAN. He was also awarded the title of 'HINDU RAKSHAK" by HINDI-USA.
I always found him smiling and even in the bleakest of circumstances he would be there to lift up everyone's spirit. The Hindu community ofAmerica in particular and the Hindu world in general will remember and continue to seek inspiration from this great fighter, Narain Katariaji and Ma Bharati will miss one of her most illustrious and capable Pravasi sons.
"Kar Chale Hum Fida Jan o Tan Sathiyon, Ab Tumhare Hawale Vatan Sathiyon."
Antyeshthi (cremation) is in Long Island, service will begin at 11:00 AM EST on Saturday, Oct 7th. 516 747-4300 (phone number of the Funeral House). 
May Ishwara grant Sadgati to the Atman of this great son of Ma Bharti in its onward journey and give forbearance to his family.
Om Shanti, Shanti, Shantih!
Abhaya Asthana
President, VHP of America
Nov 4, 2015