By: ABP News Bureau | Last Updated: Monday, 14 March 2016 12:00 PM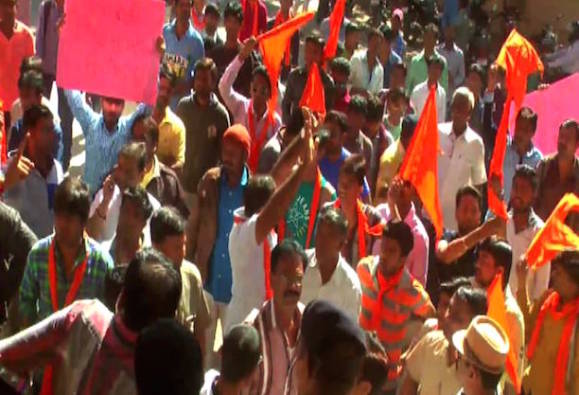 Representational Picture
Mysore: A Vishwa Hindu Parishad activist was murdered by unidentified assailants in Mysore on Sunday.
Sri Raju, an active member of VHP's Mysore wing was attacked on Sunday afternoon when he was standing at a tea shop. He died on the spot, which prompted BJP and VHP workers staged protest at several places in the city.
VHP sees ISIS hand behind Raju's murder.
"This is a preplanned attack by ISIS terrorists. Raju was a patriot Hindu. All those who are involved in his brutal murder must soon be arrested. We have decided to call Mysore bandh on Monday," said Ramdas, RSS activist.
"Raju was an adherant follower of Hindu ideology. He also opposed illegal construction of a Mosque in Hindu majority area. We will not cremate his body untill police nabs the murderers," a VHP activist said.
News of Raju's murder spread like a fire. Hundreds of activists of various Hindutva groups gathered on road, shouted slogans and tried to block traffic.
The police ensured to look into that aspect as well. BJP state president Prahlad Joshi and VHP urged the police to conduct a speedy investigation and arrest the culprits.
Source: http://www.abplive.in/india-news/vhp-calls-for-bandh-after-activists-murder-sees-isis-conspiracy-305650