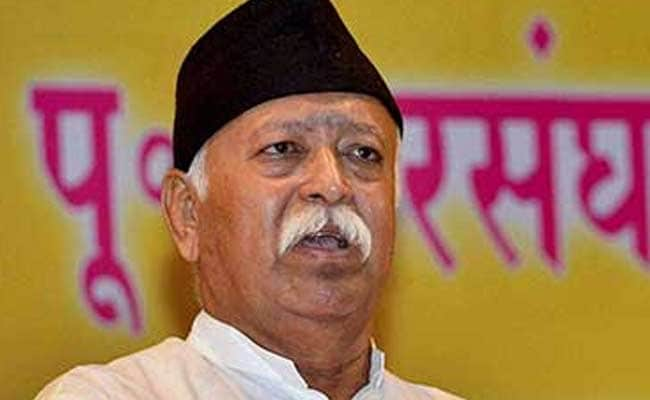 Top RSS leaders, including its chief Mohan Bhagwat, are attending the meet. (File photo)
NEW DELHI: 
RSS asks govt to deal strictly with 'anti-nationals' in universities

'Don't let universities become hub of political activity', warns RSS

The comments came as govt is under fire for mishandling JNU case
The Rashtriya Swayamsevak Sangh or RSS, ideological mentor of the ruling BJP, has said the central and state governments must deal strictly with "anti-national and anti-social forces" in universities, and suggested that places of education not be allowed to become "centres of political activity."
"The acceptance of the national discourse has been gaining steadily and the resultant unease among anti national forces have come to light through recent incidents. The anti-national activities at the Hyderabad University and JNU have thoroughly exposed their conspiracy," said a report read out at a meeting of the RSS, which is accused by opposition parties of interfering in the running of the BJP government and of "saffronising education."
"Reports about anti-national activities in certain universities have become a matter of concern for patriotic people. In the name of freedom of expression, how can slogans calling for the destruction of the nation be tolerated," the report said.
The comments come as the Narendra Modi government battles criticism and opposition attacks over its handling of the recent controversy at Delhi's Jawaharlal Nehru University or JNU, where students were charged with sedition for allegedly raising anti-national slogans, and over the death of Rohith Vemula, a Dalit scholar who committed suicide at a Hyderabad University.
Ahead of crucial Assembly elections in five states, the government is battling allegations of what political rivals call "growing intolerance."
Present at the three-day RSS meeting that began in Rajasthan's Nagaur today is BJP president Amit Shah along with leaders of other organisations affiliated to the RSS like the Vishwa Hindu Parishad and the Bajrang Dal. Top RSS leaders, including its chief Mohan Bhagwat, are attending the meet.
The RSS has said it will focus at the annual meet on issues like the education system, eradicating caste-based discrimination and social harmony.
Also on the agenda is a new uniform – blue or grey pants could replace the knee-length khaki shorts that have identified RSS cadres for nine decades.
Story First Published:March 11, 2016 18:35 IST