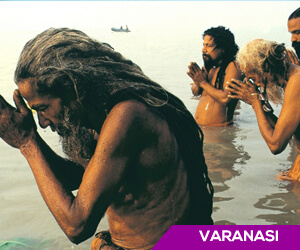 Varanasi: The city welcomed Nav Samvastar 2073 of Hindu calendar by holding a series of programmes at ghats and other places on Friday.
The Vedic students of Shri Vidya Mutt congregated at Kedar Ghat and performed 'yogasanas' to greet the rising sun of the new Hindu year. The programme was organised under the auspices of Vidyashree Dharmarth Nyas, founded by Shankaracharya of Jyotish and Dwarka Sharda peeth Swami Swaroopanand Saraswati.In a another programme, the women associated with Prajapita Brahma Kumaris Ishwariya Vishwa Vidyalaya also offered 'arghya' to the Sun God.
Subah-e-Banaras, which marked the completion of its 502 days on Friday, witnessed the routine programme that began with 'mantroccharan', followed by yajna and yoga. Those present at Assi ghat also offered 'arghya' to the Sun God on the occasion. Students of Arya Mahila PG College presented a play on 'Shakti' avatar of Maa Durga. BHU registrar K P Upadhyaya performed 'kalash sthapna' and puja at Vishwanath temple. Members of Sindhi community took out a 'prabhat pheri' from Soniya to Jhulelaal temple in Luxa to mark Jhulelal Jayanti. Taken out under the aegis of Sant Kanwar Ram Sindhi Yuva Samiti, the procession passed through Ashok Nagar, Sigra, Sindhu Nagar, Siddhgiri Bagh, Srinagar Colony and Gurubagh.
The Hindu New Year that marks the beginning of spring season is also known by various names like Chaitra Sukladi, Gudi Padava, Ugadi, Cheti Chand, Navreh and Sajibu Cheiraoba. It is celebrated in different parts of country.
Meanwhile, on the first day of Chaitra Navratra devotees, offered prayers at Shailputri temple.