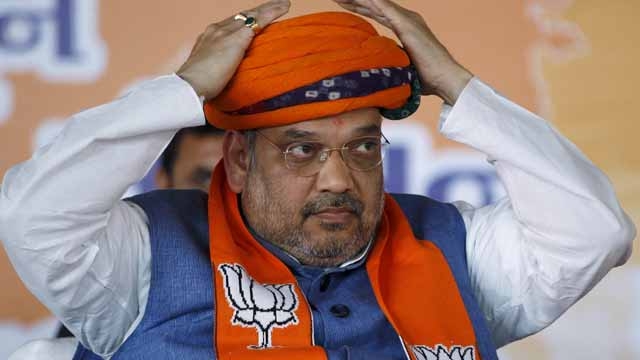 BJP President Amit Shah (Reuters – File Photo)
RSS is running a nationwide campaign to promote what it calls "social harmony" among Hindus apparently with an eye to win over Dalits ahead of the UP elections next year.
BJP President Amit Shah and Madhya Pradesh Chief Minister Shivraj Singh Chouhan along with his cabinet colleagues, Dalits and tribals will take a holy dip christened as the 'Samrasta Snan' (harmony bath), apparently in a bid to win over the twin communities, at Shipra river on May 11 during Simhastha-Kumbh mela underway at Ujjain district.
The move has come at a time when RSS is organising a series of functions to draw Dalits and tribals to its fold apparently after the Sangh Parivar head Mohan Bhagwat stirred a hornet's nest by calling for review of reservation policy during run up to the Bihar assembly polls last year. The statement had boomeranged and apparently led to BJP's drubbing in the caste-ridden polls.
"Shah, BJP leader Vinay Sahasrabuddhe, Chouhan, BJP MP chief Nandkumar Singh Chauhan and other state ministers are going to take part in Samrasta Snan on May 11. We have invited Union Social Justice and Empowerment Minister Thawar Chand Gehlot (a BJP Dalit face) also to the snan," a RSS outfit – Deendayal Vichar Prakashan – Vice President Ajay Pratap Singh said.
Shah and other leaders will reach the camp of Deendayal Vichar Prakashan set up near the Mela site and in a procession go to Ramghat where they will bathe.
"The Dalits and tribals will participate in the snan in large numbers. Members of other communities too will take the 'Samrasta snan'. The snan will be followed by Samrasta Bhoj (harmony lunch)," he said.
RSS is running a nationwide campaign this year to promote what it calls "social harmony" among Hindus apparently with an eye to win over Dalits and tribals which are key to BJP's hopes of wresting power in Uttar Pradesh which is going to polls next year.
The RSS had already held discussions on 'samajik samrasta' (social harmony) in its shakhas (morning get-together classes) from January 3-10.
"We have also organised common meals and get-together in which Dalits and tribals participated," a RSS leader said.
Besides, Samajik Samrasta yajnas are being organised, he added.
Meanwhile, the RSS is circulating a Hindi booklet titled Sabhi Hindu Sahodar Hai (all Hindus are siblings), containing its views on Hindu samrasta in Bhopal, Gwalior, Chambal and Narmadapuram revenue divisions of MP which it refers as Madhya Bharat Pranth.
The 32-page booklet praises Dr B R Ambedkar, the architect of Indian Constitution, and contains lectures of former RSS chiefs late Balasaheb Deoras and late M S Golwalkar vehemently opposing untouchability.
In a stunning comeback in Uttar Pradesh, BJP had swept the 2014 Lok Sabha elections in the state, which was mainly attributed to the consolidation of Dalit votes, and the party has been hoping to continue the trend in the 2017 Assembly polls in the politically crucial state. However, the debacle in Bihar Assembly polls despite the fact that it won a major chunk of Lok Sabha seats in the state had jolted the party.