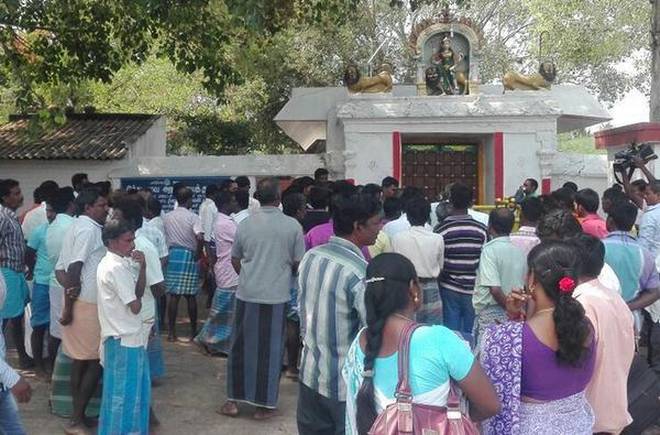 People of Hariharapakkam village waiting before the Thulukkanathamman temple on Wednesday.
Caste Hindus of Hariharapakkam village of Vembakkam taluk on Wednesday agreed to bury their differences with Dalits over temply entry issue.
Dalits of Namandi village located close to Thulukkanathamman temple in Hariharapakkam were not allowed to enter the temple by the caste Hindus. The Dalits appealed to sub-Collector T. Prabu Shankar in this regard. Police and officials provided them security and took them into the temple in October 2016. However, as caste Hindus mobilised themselves against the move, HR&CE department sealed the temple the very next day.
Meanwhile, Gangadharan, a caste Hindu, broke the seal of the temple a week ago and was booked by the police. Following this, the caste Hindus assured District Collector Prashant M. Wadnere that they would bury the differences with the Dalits. They passed a resolution to this effect at the special gram sabha on Wednesday in the presence of Vembakkam Tahsildar K. Perumal. Immediately the temple was opened for all irrespective of caste.
The caste Hindus have told Tiruvannamalai Collector that they are ready to bury the differences with Dalits