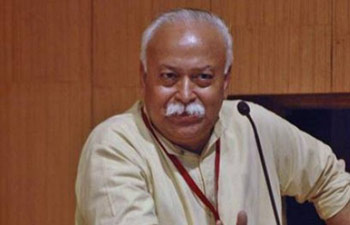 Rashtriya Swayamsevak Sangh (RSS) Chief Mohan Bhagwat is scheduled to visit the city on May 12 to attend the ongoing state-level organisational training camp, being held at a private University.Mr Bhagwat would arrive in Thanjavur on May 12 at noon and would stay in the varsity campus for four days till May 15, police sources said here today.
A well-furnished guest house inside the varsity campus has been kept ready for his stay.A total of 145 volunteers were now undergoing the state-level second year organisational training, which began in the varsity campus on April 28. The 21-day training camp will conclude on May 18 and debriefing will take place the next day.
The state-level first year organisational training camp was held in Peravurani at Thanjavur district last year.The RSS chief, who enjoys the top category 'Z plus' security cover, will have about 60 commandos of the Central Industrial Security Force (CISF) round-the-clock to protect him, besides the security provided by the state police.Police have made elaborate security arrangements, in view of his proposed visit.