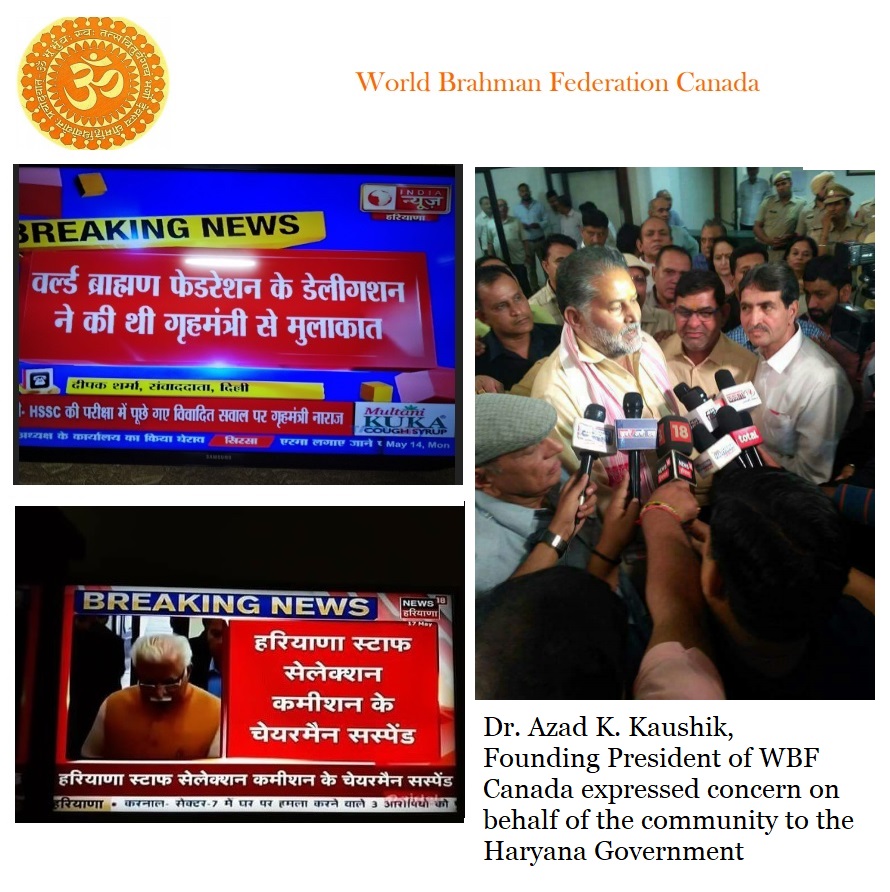 Canadian Brahmans concerned at denigration of Brahmans in Haryana Canadian Brahmans, together with the American Brahmans, from all over Canada have been concerned at the conspiracy concerning denigration of Brahmans in Haryana by the Haryana Staff Selection Commission (HSSC). There has been uproar all over India among Brahmans, including all communities, about the HSSC asking a question during examination of selection for junior engineers that were also of casteist and sexist nature.
The HSSC asked the candidates to answer a multiple-choice question about "not a bad omen upon encountering" with the options being:
(a) meeting a black Brahmin
(b) an empty pitcher
(c) a casket full of fuel and
(d) sight of the Brahmin girl.
The objectionable
question was asked by the Commission intentionally and deliberately to hurt the sentiments, pride and reputation of Brahman community in the society. Brahman community has always stood for the common good of the society and such kind of defamatory questions was uncalled for.
Dr. Azad K. Kaushik, Founding President of WBF Canada expressed concern on behalf of the community to the Haryana Government through Mr. Subhash Barala. President Haryana BJP to impress upon the government for immediate action. Mr. Barala promised an immediate action upon return of CM Manohar Lal Khattar who was on visit to Israel and United Kingdom. Other Brahmans including Rajesh Vashisth, Vice President, Canadian Haryanvi Association contacted Haryana government expressing their concern.
This is for the first time that such disrespect has been shown to Brahmans through government means, which is against the philosophy of Prime Minister Modi 'sab ka Saath, Sab ka Vikas". Dr. Om Sharma, President Brahman Samaj of USA offered support from American Brahmans to Brahmans all over India asking for a course correction.
Pandit Mange Ram Sharma, President World Brahman Federation India took up the matter on behalf of the community with Home minister Raj Nath Singh, Education Minister Ram Bilas Sharma who condemned such a situation in Haryana.
Finally, the Haryana CM Khattar was forced by the community to suspend the HSSC Chairman Bharat Bhushan Bharti responsible for the defamation of Brahmans and ordering registration of FIR against 2 the culprits with a depraved mindset.
Dr. Kaushik appreciated the action by Haryana CM Manohar Lal Khattar, as such a dismal situation must not be allowed.
Source: World Hindu News