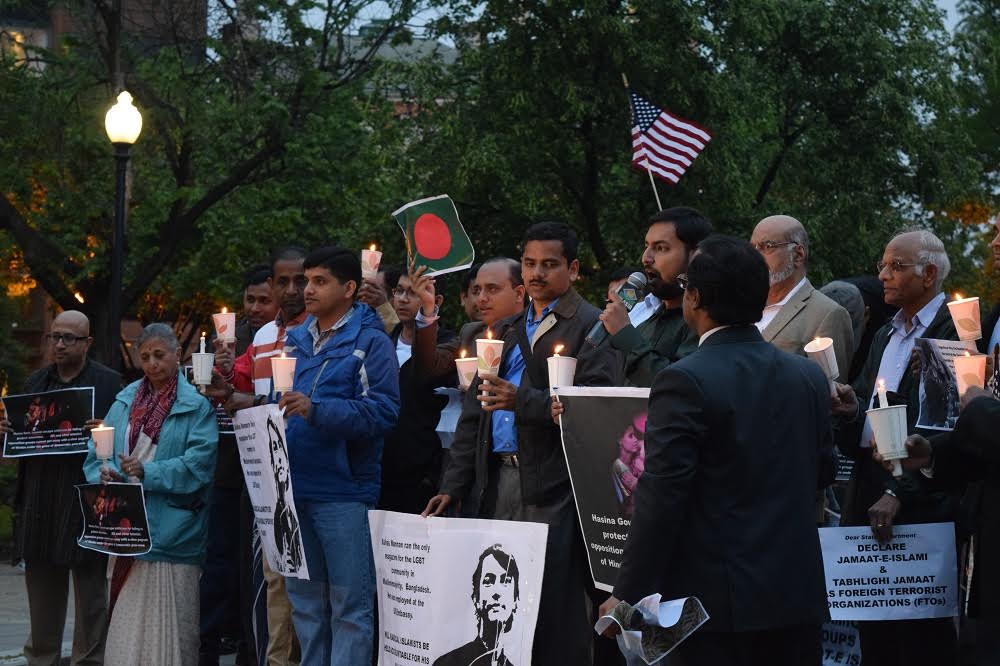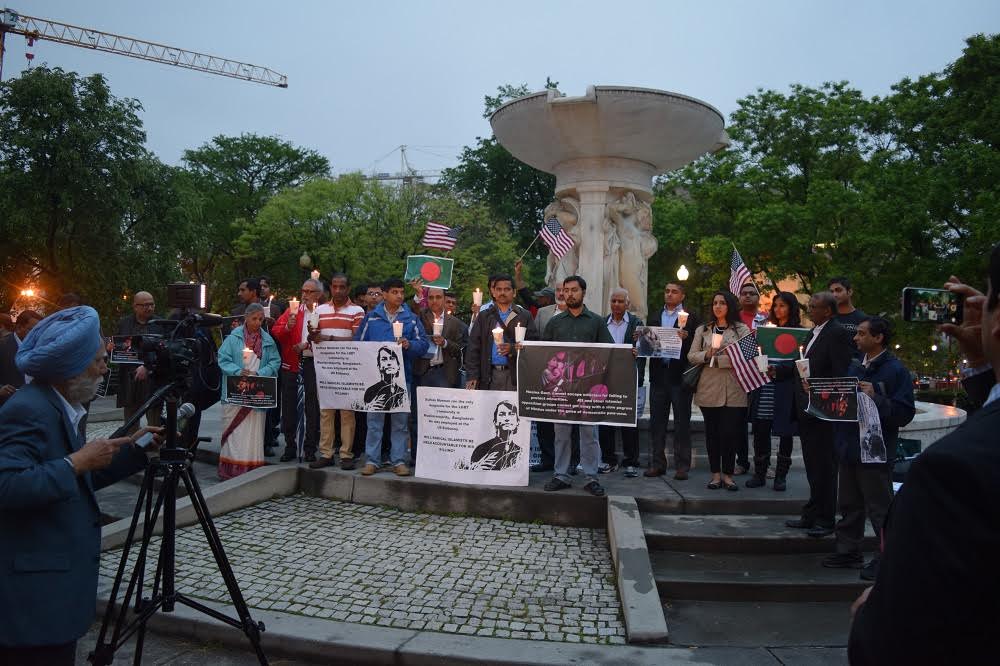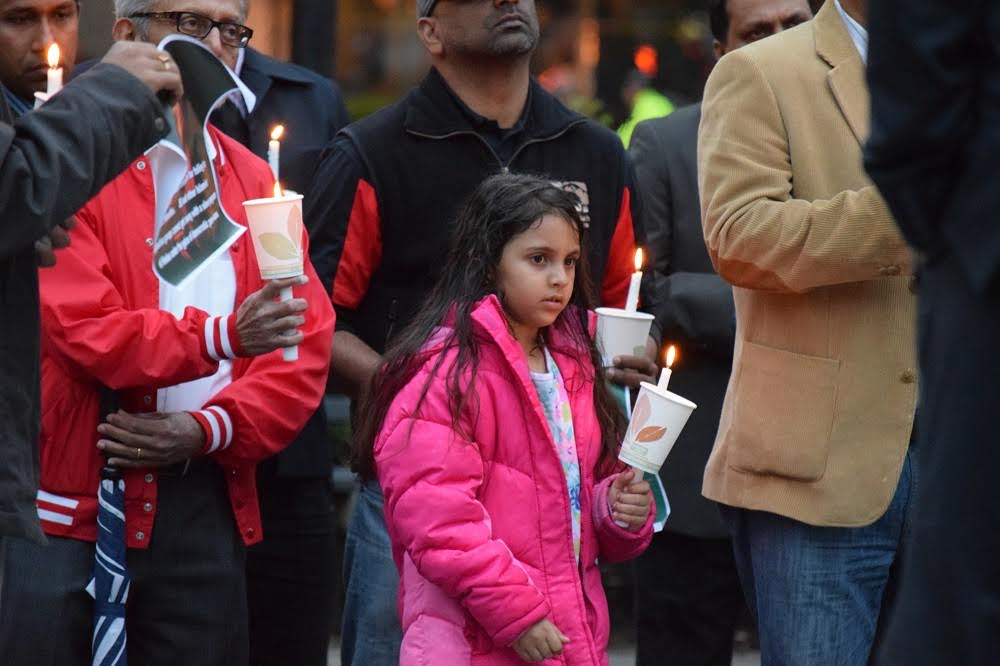 Washington, D.C. (May 11, 2016) – Sonnets of famed Bengali Nobel Laureate Rabindranath Tagore charged the atmosphere at the historic Dupont Circle in Washington, D.C. The chorus held candles and sang solemnly mourning the recent murders of Bangladeshi minorities at the hands of Islamist extremists, "Jodi tor dak shune keu na ashe tobe ekla cholo re (If no one responds to your call, then chart your own path alone)."
Last month's assassinations by machete wielding assailants of Xulhaz Mannan, a prominent LGBT activist and USAID employee in Dhaka, and artist Tonmoi Mahbub, particularly struck an emotional chord with US State Department personnel who attended to honor their former colleague.
Dozens from across the DC-metro area attended to express solidarity with religious and social minorities of Bangladesh, who have suffered thirty deadly attacks and counting since February 2015. Organizations represented included the US chapter of the Bangladesh Hindu Buddhist Christian Unity Council (BHBCUC), the Hindu American Foundation (HAF), the World Hindu Council of America, along with the Center for Inquiry (CFI) and LGBT leaders.
Toufique Hassan, Senior Counsellor at the Embassy of Bangladesh, delivered remarks on behalf of his government. Hassan said, "Prime Minister Sheikh Hasina adheres firmly to a 'zero tolerance' policy against terrorism, in all its forms and manifestations, and violent extremism."
In addition, Hassan thanked the United States for its continued support for ongoing efforts to dismantle Islamist networks in Bangladesh.
Tapan Dutta of BHBCUC-USA expressed dismay at the continuing atrocities against Hindus. He urged the Prime Minister to take stronger measures to secure the homes, temples, and the lives of Bangladesh's indigenous Hindu community. Lamenting the increasing violence, Dutta said, "In 1971, Bangladesh was born as a nation for all Bengalis, irrespective of their religion and social status. That dream dies a little more with each passing day."
Nicholas Little, Vice President of the humanist advocacy organization Center For Inquiry, spoke as a friend Avijit Roy. Last year's public killing of Roy, the founder of the famous Bangladesh-atheist forum Mukto Mona and a US Citizen, sparked a surge of similar public murders by machete wielding assailants with ISIS and Al-Qaeda competing to claim credit.
Local LGBT and Baloch-freedom activist Ahmar Mustikhan pleaded to the global community to stand against Islamist violence against Hindus, Christians, Sufis, Shias along with atheists, LGBTs, and all social minorities of Bangladesh.
Jay Kansara, HAF Director of Government Relations, encouraged attendees to call their U.S. Representative to support H.Res. 396. Introduced by Congresswoman Tulsi Gabbard (D-HI). The resolution, introduced in July 2015, is intended to bring attention to growing Islamist extremism, especially the ongoing nefarious activities of the Jamaat-e-Islami and its affiliated groups. Hindu and other minority leaders hope that the legislation would be amended to reflect incidences and developing trends that have occurred since its inception.
Kansara declared, "We won't let the people of Bangladesh stand alone as they confront Islamist extremism." Most attending the event expressed hope that Jamaat will be banned soon.
Source: World Hindu News (WHN)