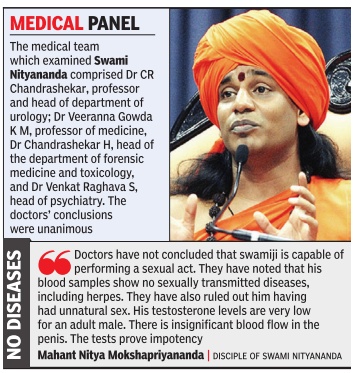 ​
Nithyananda Swami's report: CID submit test results to court
—————–
The Karnataka CID today submitted the medical test report of Sri Nithyananda Swami to the Ramanagara Sessions Court.
As per the report, the following have been confirmed:
· Hypogonadism
· Extremely low levels of the male hormone Testosterone
· Only 12.50 mg/dl of testosterone is present
· Normal testosterone levels in adult males (age 31-49 years) range from 249 mg/dl upwards
The doctors have nowhere stated that he is capable of performing a sexual act
Sri Nithyananda Swami's report shows that he has just 5% of the lowest testosterone level required to be even considered a man.
Impotency Proved: Finally one newspaper that shows the complete medical report accurately. Most others have just vomited the CID's media release that Swami was potent (while the word potent never occurs in the entire 30+ pages of the report) or used the cunning phrase "he is a man" to imply that he is sexually capable or potent very well knowing that being a man and being sexually capable are two different things.
The hospital report itself though mostly accurate in terms of the data has made a conclusion that is COMPLETELY out of sync with the data. They say there is "no evidence" to suggest he is not capable of sexual act though the entire report ONLY consists of evidence that points in that direction.