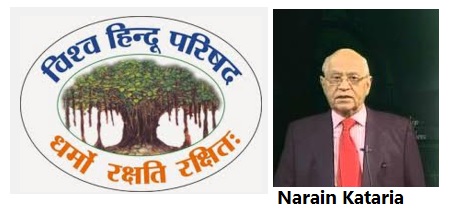 Nov 4, 2015
DEEPEST CONDOLENCES FROM VISHVA HINDU PARISHAD ON SAD NIDHAN OF SHRI NARAIN KATARIAJI (USA)
As the existence of Karmayogis like our Shri Narain Katariaji – President, Indian American Intellectuals Forum – are cherished – they never truly leave when they depart from this earth – as they leave memories and legacy for future generations. Death does not come to such people as they live on in the minds and hearts of people.
Shri Katariaji truly internalized the following message of Yogeshwar Krishna as given at 2.37 in the Srimad Bhagavad Gita: "hato va prapsyasi svargam, jitva va bhoksyase mahim, tasmad uttistha kaunteya, yuddhaya krta-niscayah" ["If thou shouldst die (battling thine enemies), thou wilt gain heaven; if thou conquerest, thou wilt enjoy the earth. Therefore, O Arjuna, lift thyself up! Be determined to fight!" He fully identified with the message of Hrishikesha and walked the talk that those who enter the portals of death while engaged in righteous battle to banish any kind of evil fall asleep on the soft down of meritorious inner soul-satisfaction and are lifted in glory to the astral heaven. Those who on earth attain valiant victory over darkness will bask in the light and glory of a tangible peace and inner happiness. Therefore, O Arjuna, arise and be determined to wage an overpowering battle with your opponents. Even to the last minute Shri Kataria ji was fighting for justice for Hindus. On November 02, 2015, in an interview given to ITV, he very strongly articulated with examples the Hindu view that the Hindu society has always been "inclusive" and that the reports of "intolerance" in the media was one sided. After this he went home at 9:30 PM and passed away in sleep. He was a great organizer (Yojak/Sangathak), so as the President of Indian American Intellectuals Forum, he had enrolled the active support of many intellectuals for the cause of Bharat Mata and Hindutva. The main objective of this forum is to strengthen Indo-American relations and create an awareness in Indian-Americans and non-Indian Americans, and educate them about the menace of terrorism all over the world. This forum organizes every year "HINDU UNITY DAY" inNew York.  So far the Forum has celebrated 20 Annual Hindu Unity Days.  Katariaji was connected with several Hindu organizations.  He was a member of the Governing Council of Vishwa Hindu Parishad of America (VHPA) and Organizing Secretary of Hindu Swayamsevak Sangh (HSS) forNew York State. He had been living in New York for the last 43 years.  He had Master's degree in History.  He was a survivor of the partition of Bharat in which millions of Hindus were killed.  After retirement from a prominent Law Firm in New York  in 1998, he had been working 24/7 for Hindu-related causes. Whenever there was any problem for Hindu society in any part of the world, this forum took the lead, organized protests, sent thousands of e-mails and petitions to the concerned authorities. Shri Katariaji was conferred the award of 'HINDU MANI" by SHIKSHAYATAN. He was also awarded the title of 'HINDU RAKSHAK" by HINDI-USA. The Hindu community of America in particular and the Hindu world in general will always miss the great fighter Shri Katariaji. Maa Bhaarati will miss one of her most illustrious and capable Pravasi sons. We have to bow before the inscrutable designs of the Almighty! "Na Hi Kalyaana Kruta Kaschit, Durgatim Tat Gachchhati"!
Hope, the new generation of Hindus in the Americas and elsewhere will seek inspiration from Late Shri Katariaji's legacy of fighting for justice for Hindus and continue the good work that he was doing as this work was closest to his heart. It would be the greatest tribute to the lion heart.
We, from Vishva Hindu Parishad Parivar, including Sarvashri Ashokji Singhal (Patron, VHP), G. Raghava Reddy (VHP President),Dr. Pravinbhai Togadiya (VHP Working President), Ashok V. Chowgule [VHP Working President (External)], Champat Rai (VHP Secretary General), Dinesh Chandra (VHP Organizing General Secretary), Prashant Hartalkar (VHP Central Secretary) extend our deepest Samvedna to his bereaved family and other Swajans during this period of mourning.
"Om Purnamadah Purnamidam Purnaat Purnamudachyate, Purnasya Purnamaadaay Purnamevaavashishyate." OmShaantih, Shaantih, Shaantih!  [OM Completeness is That, Completeness is This! From Completeness, Completeness comes forth. Completeness from Completeness taken away, Completeness alone remains! May the living beings be at Peace with themselves! May there be Peace and discipline (Dharma) in the World! May the Universe Shower Peace on All!)
In grief,
(SWAMI VIGYANANAND)
Joint General Secretary
Vishva Hindu Parishad
Sankat Mochan Ashram
Ramakrishna Puram Sector-6
New Delhi-110 022 Bharat (India)
Source: World Hindu News (WHN)