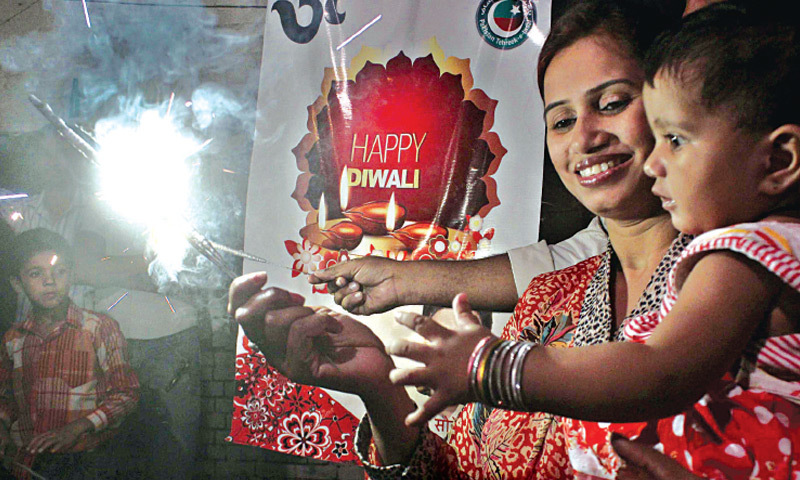 LAHORE: The Evacuee Trust Property Board organised a Diwali function for Lahore's Hindu community on Thursday.
Fairy lights, and earthen oil lamps bedecked the age-old Krishna Mandir near the river Ravi, which seems to be a forgotten, crumbling building. Everyone from little girls to old women wearing colourful clothes, make-up and costume jewellery joined the festival. While the men wore more sober colours, some of the younger ones could not stop themselves from wearing glitzy shirts especially for the festival of lights.
For Hindus, Diwali is not just a festival. The act of lighting candles means that Good has won over Evil, enacted in their religious legends by the story of Sita and Rawan and how Ram saved her and destroyed Rawan.
Although some Hindus celebrated privately in the smaller Valmiki Mandir near Neela Gumbad, Anarkali, most converged at the Krishna Mandir. Valmiki is a caste in Hinduism and is a euphemism for 'untouchable'.
During the festival, the main focus was on the 'pooja' and 'aarti', two traditions in the Hindu religion.
Devotees lit candles and diyas, distributed sweets and offered special prayers for the prosperity of their families and dear ones as well as for peace in the country.
"We are very thankful to the government for organising this pooja for us and to provide us with proper security here," says Pushpa, a worshipper.
Heavily made-up, she looks like a newly married bride, her crimson stained middle parting, and gleaming eyes reflecting dozens of oil lamps around her. She has saved up for getting a new dress stitched and although most of the Hindu community in Lahore does not come from a wealthy class, they save up especially for their festivals.
Like every year, the Evacuee Trust Property Board made special arrangements on this occasion and in the central ceremony of Diwali organised by the board at Krishna Mandir. Hindu Panchayat leaders were also present at the occasion. Special chapters from the Ramayan were read out and the story of Ram and Sita was given special focus.
But Hindu worshippers also passed on a message of peace for their Pakistani brothers and sisters. They said the level of violence had risen all over the country. "We are not politicised and we aim to live in this beloved country without causing any trouble," said Sanjesh, forefigure of a Hindu peace wing committee, which also works online.