New Delhi: The divine nine days of the year are starting from today. Navaratri the nine holy days of worshipping Shakti are back and as all of us have submerged in revering the nine forms of Shakti, here's something that will actually enlighten you about this significant festivals of Hindus.
Navaratri is celebrated 4 times in a year. Vasanta Navaratri, Ashad Navaratri, Sharad Navaratri and Magha Navaratri. Out of these four Navaratri, two are most popular and significant.
Navaratri is celebrated 4 times in a year
Vasanta or Chaitra Navaratri: This Navaratri is celebrated during the Shukla Paksha of Chaitra, which is between March to April. The beginning of this Navaratri also marks the start of the New Year as per Hindu Lunar Calendar. Maharastrians celebrate the first day this Navaratri as Gudi Padwa and Kashmiri Hindus call it Navreh. This Navaratri is mostly celebrated in North India and Western India.
Ashad Navaratri: This Navaratri also called Gupta Navaratri is observed during the Ashadha Shukla Paksha, which is during the months of June and July. This Navaratri is also known as Gayatri or Ashadha or Shakambhari Navaratri.
Sharad Navaratri: This is the most popular and significant Navaratri also called Maha Navaratri and is celebrated during the lunar month of Ashvin and beginning of winters ie September and October. This Navaratri is not only big in Northern and Western India but is also widely celebrated in Eastern India as Durga Puja.
Magha Navaratri: Magha Navaratri also referred as Pausha Navaratri is observed during the Pausha Shukla Paksha, which is in between the months of December and January. This Navaratri begins on Ashtami and ends on Purnima in Paush month.
Though both the Navaratri – Vasanta and Sharad are dedicated to Shakti but there are also some legends associated with these festivals.
 
Vasanta Navaratri
Vasanta Navaratri – The main purpose of celebrating this Navaratri is to welcome seasonal changes as the other festivals of the year start with Vasanta Navaratri. The tradition of worshipping the power of Shakti is followed as it was started by our ancestors.
All though Vasanta Navaratri is dedicated to nine forms of Shakti but Rama and Hanumana are also worshipped during this period, as God Rama was born on the last of day Navaratri, which is also called Ram Navami. The other legend that is associated with this festival is the story of prince Sudarsana, who won the battle against King Yudhajit after with the help of Shakti. After the victory prince Sudarsana worshipped Devi along with his wife and Father-in-law, as Devi was pleased, she ordered them to perform her havan and other means during the Vasanta Navratri. Since then this Navaratri is celebrated as Vasanta Navaratri. Sri Rama and Lakshmana being the descendants of King Sudarsana also performed havan during Vasanta Navaratri and as a result Devi helped them in the recovery of Sita.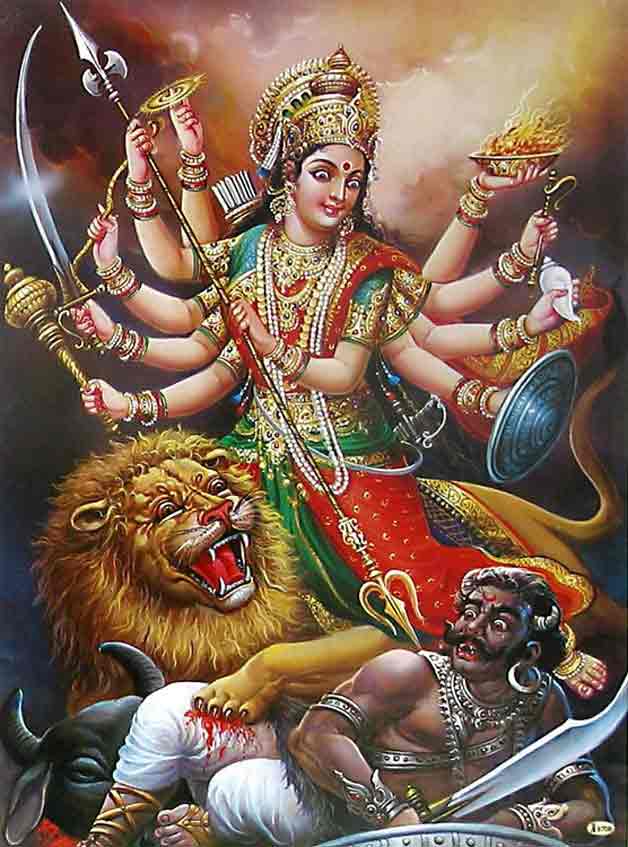 Sharad Navaratri
Sharad Navratri is dedicated to nine forms of Maa Shakti – Durga, Bhadrakali, Jagadamba, Annapurna, Sarvamangala, Bhairavi, Chandika, Lalita, Bhavani and Mookambika. This Navaratri is celebrates the slaying of demon Mahishasura by Goddess Durga and the tenth is celebrated as VijayaDashmi – the day on which Sri Rama won the battle against Ravana and receovered Sita. In Southern parts of India, the festival includes worshipping of Goddess Lakshmi for three days and Goddess Saraswati for another three days.
We wish this Navaratri, Shakti showers blessings on each one of us!