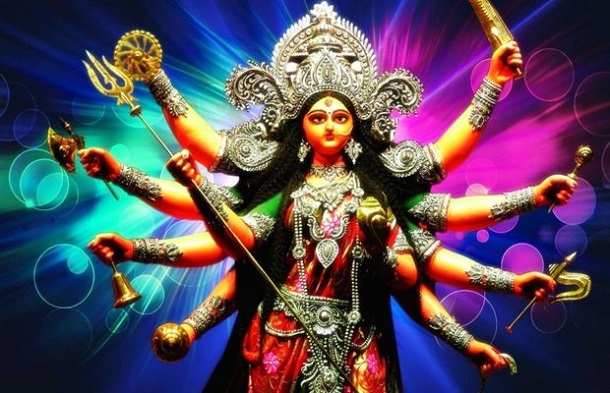 The ninth day of Navratri is known as Navami. The Navami which falls in Sharad Navratri, is known as Durga Navami while the Navami which falls in Chaitra Navratri is known as Ram Navami. It is the third day of Durga Puja. These 9 days of Navratri celebrate the nine incarnations of Goddess Durga, with each day designated to an avatar of Goddess Durga. On the ninth day of Navratri, Goddess Siddhidatri is worshipped. She is the giver of supernatural power, as the name suggests. After this, the tenth day of Navratri is also referred to as Dashmi or Vijaya Dashmi (Dussehra). It is an important festival for Hindu community around the world. Right from the evening of Ashtami, Navami Tithi is marked. It is the last day of nine-day long fasting during Navratri. The fasting is concluded by performing Kanya Puja, in which 9 unmarried girls are worshipped as the nine Shaktis of Goddess Durga. Prayers are offered to Goddess Shaktis of Goddess Durga. Prayers are offered to Goddess Siddhidatri, after which the fasting is concluded. 
Durga Navami 2018 significance and story behind it 
It is believed that on this day, Goddess Durga annihilated cruel demon Mahishasur, this is why this day is observed as Durga Navami. Some people even take holy bath on this day, which is also known as Mahasnaan. It is performed in the evening on the day of Durga Ashtami. Durga Balidaan Puja is performed on Durga Navami during the Apharna Kaal. A 'havan' is mandatory on this day, to conclude the Navratri Puja. 
It is also believed that Goddess Parvati took Durga avatar to kill the demon Mahishasur. The evil demon couldn't be destroyed by any God due to a number of boons granted to him. This is why Aadi Shakti emerged as Goddess Durga and waged a war against him, which stretched for eight days. And on the ninth day of the war, she finally annihilated him. After this incident, people started observing these nine days as Navratri. Also, Lord Ram worshipped Goddess Durga for nine days before slaying the demon king Raavan. This is why on the very next day after Navratri, Dussehra is celebrated. It is observed as an event to celebrate the victory of good over evil.