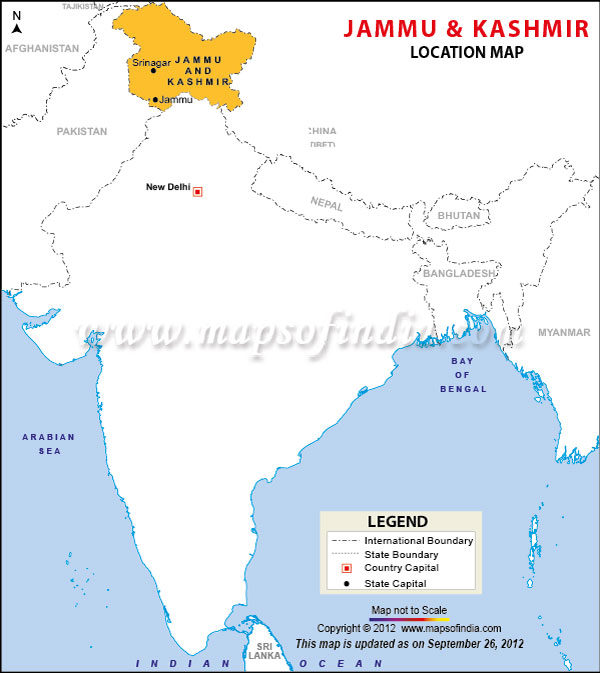 Sham Lal Sharma, a Congress politician from Jammu clamoured for a 'Hindu CM' not once but twice. Once he did it while he was in state cabinet and again after he made a show of leaving it, on a matter of principle. Sharma's assessment card shows a negative balance, when weighed on principled stand. However, we are in the process of weighing his take on a political scale.  
'Hindu CM' coming from a politician in Congress with a secular signboard might have surprised the uninitiated, the ones taking it on face value.  For the ones initiated in the ways of politicians and political outfits they work in, the nuances involved in Sharma's take spell out in multiple hues. It is especially so, as JK state is tied in multiple knots. The knots implied in the make-up of the state compel a study. 
Post modernistic take allows small narratives to find space without a moderating agency to make the main narrative prevail. The dominant narrative thus becomes the narrative of the state that promotes post modernistic approach. Translated in JK terms, it implies a Jammu Dogra narrative, a Ladakh Buddhist narrative, a Gujjar narrative, a Shia narrative, a Sunni narrative meant to confuse and confound. The take is meant to deny conflict resolution, maintain status quo, if possible forever.  Clamour for 'Hindu CM' is one of its latest manifestations.
It was rumoured that Sharma is eyeing BJP's Hindutva bandwagon. The rumour was misplaced. It was a classic case of getting to extreme of Hindutva by going one up on bandwagon. Mrs Indira Gandhi had done it in 1983 to the extent of earning RSS pat. Sharma is no Gandhi and RSS has its own chariot to ride. 'Hindu CM' could be RSS ace too, but with an eye on five lotuses in Kashmir translating in to picking up five seats from the valley, and protecting behind the vale allies in the valley, the ace is put on the hold, at least for the time being. And by taking up the constitutionally correct position of CM being leader of majority legislature party–Hindu or Muslim remains the BJP agenda in the present phase. 
The first phase of polling is over. High percentage of electorate—over 70% voted. While as electronic media went wild with expression of joy, media circles in Srinagar and civil society had already smelt the public mood. And they were hardly surprised. The big swing in public mood occurred by polarization game that BJP was playing. The saffron brigade had played it successfully in India with amazing results. JK however is a different turf, and the electoral dice is heavily loaded against BJP mission 44+.
BJP polarization game may work in two and a half districts comprising Jammu, Kathua and Udhampur partially. Modi magic may hold. With an odd seat in Chenab Basin and Pir Panchal, given the delicate demographic balance, BJP may stay between 20 to 25 seats. In order to jump to 44+, it is desperately eyeing five lotuses in Kashmir [a phrase coined by Arun Jaitley] and the fringe elements in the valley. There are multiple reports of interacting with these elements. And it has gone much beyond semantics and mere exchange of courtesies. Aam Admi has picked up the trail and is coming out in large numbers to foil the design. Anything but BJP and its prospective allies seems to be the general run.
The trail has put regional parties in a favourable position. NC however has the anti-incumbency factor working against it, though some pundits give it a slightly higher rating, result of an improvement of sorts over last week or two. Some local factors are coming into play rather than any general trend. Events like the court verdict holding PDP's high profile General Secretary– Dilawar Mir guilty have put spooks in the wheel. The wheel that was sailing effortlessly, given the administrative lapses during NC-Congress coalition. Lapses that had a cascading effect in the immediate aftermath of floods. Still, PDP is a favourite to occupy a decisive space in post poll scenario, whether it translates into 44+ or stays short of it is a vexed question.
PDP 44+ or a shade short of it will rule out the eminent position that two and a half Jammu district held in PDP-Congress coalition [2002-2008] and in NC-Congress coalition [2008-2014] unless they provide congress a level playing field, for more reasons than one.  PDP staying short of 44 would have to take a partner. And that partner being BJP could be perilous. PDP and NC are unlikely allies. PDP could take support of Congress, taken to be the lesser evil of the two national parties. 
The question remains—would congress pick up enough seats to be in a position of offering an alternative to BJP. Two and a half Jammu districts got disproportionate share of cabinet portfolios in [2002-2008] and [2008-2014] coalitions with high yield for constituents, other regions/sub-regions remained lowly represented. So, their best bet might be Congress rather than BJP, were they to retain the king makers role, they held so far. The electoral dice is heavily loaded against Sharma propagated, 'Hindu CM' even against the position that Sharma and his ilk enjoyed thus far.