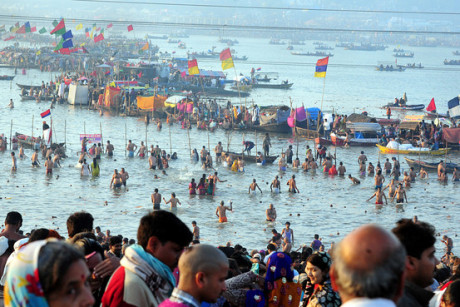 On the eve of the second Shahi Snan of Simhastha at Ujjain, a large number of devotees from elsewhere within the country and abroad enjoyed various arts whole night by listening to spiritual and religious discourses at various akharas. Tribal artistes from various states of the country with their unique musical instruments gave presentations on tribal arts and culture.
At Bhoj Manch on Sadawal road, artistes of Santhal tribe of Jharkhand won hearts of audience through their performance. A 15-member troupe led by Jamshedpur's Ramchandra Marandi presented tribal dance and drama focusing on creation of Earth in Santhali dialect, which left the audience spell-bound.
Sikkim's Sorathi Marini artiste Tulsi Khanal and troupe mesmerized the audience with presentation of Balan dance.
Lakhs of devotees are enjoyiong bhajan-kirtan and cultural presentations at Akharas of saints and seers on the holy soil of Ujjain during Simhastha. They also mince no words in lavishing praise on excellent arrangements made by the state government for Simhastha.
Overwhelmed by devotion after taking the holy dip in Kshipra river, Rekha Wasne from Aligarh, Uttar Pradesh said that she would never forget scenes of Ujjain's Simhastha. Rekha who had come for only 2 days, got so much enamoured with Mahakal's city Ujjain that she has decided to return only after taking the holy dip during last Snan.
PR Minister Shukla sends off pilgrims for Simhastha from Rewa Meanwhile, Public Relations, Energy, New & Renewable Energy and Mineral Resources Minister Rajendra Shukla flagged off a bus of pilgrims from rural areas and Rewa city for Ujjain Simhastha Mahakumbh from his residence on Sunday.
Shukla said Ujjain's Simhastha is not only basis of mythology, but also scientific basis of counting of cycles and time. He said that Simhastha is the best opportunity to understand social changes and control and building society accordingly. Shukla wished happy journey to pilgrims.