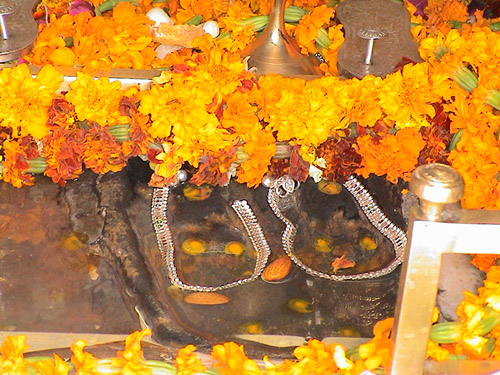 Colourful saris and other clothing dry on rocks as several devotees take a dip in the muddy river a couple of kilometres short of the temple. "It is clean for them," smiles Ali Sher, the driver of one of the buses overloaded with Hindu pilgrims. "We started our bus journey from Tando Mohammad Khan. On the way we stopped at all the temples that fell on our way through Keenjhar, Karachi and the mud volcano a few kilometres away from here. This is like Haj for Hindus and stopping at the different temples along the way is like Umrah for them," he says.
About the Islamic inscriptions on the buses, bus conductor Abdul Raheen says, "We have our writings here, they have their red and orange triangular flags. We don't mind that. They don't mind this."
"All the pilgrims are requested to take full care of the sanctity of Maata Mandir. Please abstain from creating nuisance on the premises. Eating any kind of meat and fish is prohibited. Maata Mandir is open only for the purpose of paying homage to Maata. Don't come here for picnicking. Please don't litter, take special care to keep this place clean. Please cover your head when entering Maata Mandir," reads an inscription on the yellow board next to the mustard and light blue gates left open at this time of year. There are four temples inside, the biggest of which is Nani Mandir.
Pilgrims come to the Sri Maata Hinglaj Mandir from all over Pakistan and abroad. On the first day of the Hinglaj Mela on Sunday, the rumour circulates that Bollywood superstar Amitabh Bachchan may also visit this year. "I read in an Urdu newspaper that he is coming," says a young boy, keeping an eye on the main gate.
"When we go to India and visit the famous temples there, we are asked whether we have visited Hinglaj Maata in Balochistan. Indian Hindus believe this to be a very sacred spot but sadly they can't visit easily due to visa issues," says Baby. When asked for her real name, the woman smiles: "My parents really named me Baby. I wouldn't lie to you sitting at Maata's feet here."
Some people travelled here from Karachi on foot. "We began our journey seven days ago," says Dhani Mohan from Lyari. "There were 22 people in our group including my sons, daughters, daughters-in-law and grandchildren."
"Our group comprised 40 people. The young men among us carried our food rations on special carts they made from their bicycles," says Rajki, another devotee who walked from Karachi's Bhains Colony. "The more hardship we endure in coming to Maata, they more pleased she'll be with us. And after reaching here we only feel peace. It refreshes us."
"I have been coming here every year for several years and each time there is some positive change or the other," says Mithun Kumar, facilitating pilgrims with pots of cool water. "Earlier, there wasn't a cemented path leading to the various temples here. There wasn't even a proper road. And now we also have rest houses and generators for the pilgrims." He is paid by the Hinglaj Shewa Mandli. "And the committee receives proper funding from the government for looking after the holy spot," he says.
Along the cemented path, women and children — most of whom are Muslim — sell red threads, worry beads, chunri, and bands with Hindu text inscribed with golden glitter. "The security people are far too strict. They won't let us sell inside," complains Zarina. "I also sell at Sehwan during the Lal Shahbaz Qalandar Urs. But security isn't as tough there as it is here."
"We have a place for the sellers there," says Hawaldar Abdul Hameed, gesturing towards the long lines of makeshift shops on either side of the path leading to the entrance gate. "They are not allowed inside but what to do, they hide their stuff in clothes' bundles and spread them out on display inside," he explains. "Today is still the first day of the festival. We are bracing ourselves for the rush expected on the second and third days. There won't even be standing room here, then. And in the crowd there will be people high on God knows what. We don't allow them inside until they sober up," he adds. "Every religion deserves respect. We won't allow any nuisance here."