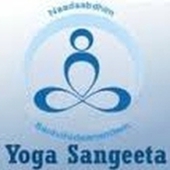 PRESS RELEASE
Guinness World Records Recognizes His Holiness Dr. Sri Ganapathy Sachchidananda Swamiji for the Second Time in Three Months: This Time for Creating World History at the Sydney Opera House, Australia for the Largest Music Therapy Lesson
At a time when ailments are pervasive with cures sought from increasingly strong medications,
His Holiness Dr. Sri Ganapathy Sachchidananda Swamiji, pontiff of the Avadhoota Datta
Peetham of Mysore, India led the largest music therapy lesson at a single location on 6th April, 2015 at the iconic Sydney Opera House, Sydney, Australia, for the well-being of not just the participants, but also those suffering around the world.
Notably, the Guinness World Records recognized Sri Swamiji for leading a four hour marathon 'most people chanting from a single location' – for world peace – on 31st January 2015 in Tenali in the State of Andhra Pradesh, India.
Consul General of India in Sydney, Sri Sunjay Sudhir, who witnessed the event, thanked Sri Swamiji for the wonderful music therapy session, and relayed his hope for many more such sessions.
Leading the effort, Sri Swamiji explained the synergistic role of music in improving the outcome of cure for chronic ailments, when complemented with medical treatment. Sri Swamiji also explained the intricate relationship between nerves, sound vibrations, human organs, and the impact of music in the related nerve centers.
At this world record event, Sri Swamiji was accompanied by world-renowned violinist Dr. L. Subramaniam, percussionists Sri Ramadasu on tabla and Sri V Suresh on Ghatam along with the Celestial Message Troupe consisting of Vidwan Jaitra Varanasi on Violin, Vidwan Mani Narasimham on Keyboard, and Vidwan Shankar Ramesh on Mrudangam.
Sri Swamiji has honed his healing music over several decades, and his scientific approach to music therapy has benefited millions of people directly and indirectly through many such music therapy lessons. The therapy process applies to individuals as well as groups through both active and passive therapy. The techniques include receptive listening, active singing, song writing, lyric discussion, music and imagery, music performance and learning through music.
According to Sri Swamiji, the benefits of music therapy include relief from pain and discomfort, reduction of stress, improved coping, strengthened immune system, self-empowerment during treatment, strengthened family bonds, continued developmental growth, improved patient and family satisfaction, and spiritual upliftment. In addition, Sri Swamiji's healing music is utilized in a number of Intensive Care Units at numerous hospitals. As such, preliminary experiments to study the influence of Sri Swamiji's music on Tamilnadu State police personnel showed improved behavior with plaintiffs, reduced job-related stress, and an improvement in their overall sense of well-being. When Sri Swamiji's music was played in prisons, an improvement in convicts' behavior with co-habitants and better social consciousness was observed.
Sri Swamiji is world renowned for His Healing and Meditation music and has conducted hundreds of music concerts all over the world in some of the most prestigious venues, including the Lincoln Center in New York City, USA, The Esplanade in Singapore and Royal Albert Hall in London, UK. Today's music therapy session was officially declared as the world's largest music therapy lesson at a single location by the Guinness World Records.
Sri Swamiji's Nada Yoga Research Center in Mysore, India is a state of the art center which provides the experience of individualized healing sessions in a precisely calibrated environment with computer controlled piped music. A comprehensive compilation on Sri Swamiji's approach to music and music therapy explaining the various facets of Sri Swamiji's concept and therapy process has been published in the name of 'Raga Ragini Nada Yoga.'
Based in Mysore, Sri Swamiji has established many ashrams to spread the message of peace around the world. Sri Swamiji supports a multitude of social projects to help the downtrodden, including hospitals and schools in India to help the poor and needy, and homes for the aged. People around the world have received immense benefit from physical healing to spiritual guidance through His music therapy sessions. Recognizing Sri Swamiji's international stature, the US government has granted special O-visa status to Him to travel and perform throughout the USA. Sri Swamiji's work often appears in newspapers and periodicals around the globe.
Source: WHN Media Network