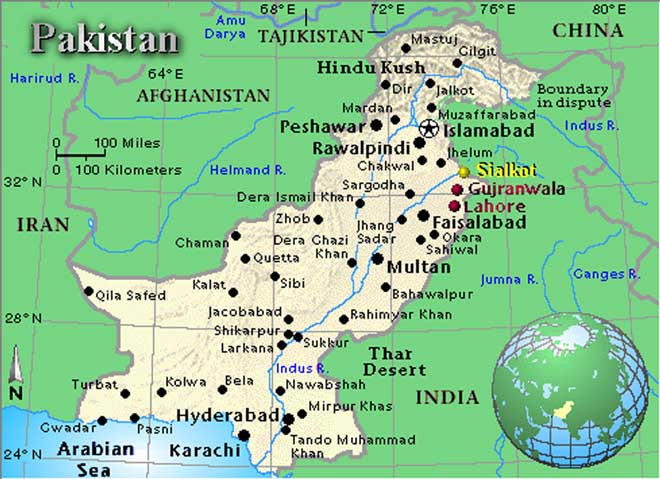 Karachi 
Pakistan's Hindu community leaders demanded on Wednesday that the government should ensure the protection of the lives and properties of the community members in the province in the wake of a mob killing a Hindu youth and injuring another accusing them of blasphemy in Mirpur Mathelo, Ghotki.
Residents of the town said they found copies of the Holy Quran burnt outside a mosque. Amar Laal, a Hindu believed to be a drug-addict and mentally unstable, was blamed for desecrating the pages on Tuesday and he was arrested on Wednesday.
On Tuesday night, two Hindu youths, Dewan Satish Kumar, 17, and Avinash were sitting at a tea stall when a mob opened fire on them.
Kumar succumbed to his injuries while Avinash was admitted to a hospital where he is in a serious condition.
Insecure atmosphere
The Hindu community leaders said that after the incident, community members in Ghotki and its adjacent areas including Daharki were feeling insecure and many Hindu families had migrated to other towns fearing more attacks. The community leaders complained that violence and discrimination against Hindus had increased in Sindh in recent years.
Gokal Das, an elderly Hindu man was beaten by a police constable in Ghotki for allegedly eating and selling food during Ramazan.
Ashok Kumar Jay, a Sukkar-based Hindu rights activist, said there had been an increase in faith-based violence in the country especially in Sindh in the last few years.
"There has been a sharp increase in violence against religious minorities including forced conversions, target killings, extortion, looting, kidnapping, and troubles linked to their places of worship," Jay said.
Newspapers have been publishing many reports about acts of violence against Hindu women during the last few months in Sindh alone.
Jay said the recent spur of events, especially the forced conversion cases, has given momentum to the unfortunate trend of Hindu families abandoning their homeland.
The Human Rights Commission of Pakistan, in its annual report citing media reports, said over 1,200 Pakistani Hindus had left for India over the past five years to escape discrimination and religious persecution.
Michael Javed, a Christian leader and a former lawmaker, said violence against Christians and members of the Ahmadiyya community on the pretext of blasphemy was a common phenomenon in Punjab but recently such cases were increasing in Sindh, where a large number of Hindus lived.
"Sindh was known for its liberal and Sufi society, but in the last five years, non-Muslim communities are being attacked," Javed told The News.
Javed said members of religious minorities were often accused of blasphemy in cases of personal enmities or community disputes, sometimes leading to mob violence and vigilante attacks. "Some defendants have even been killed in police custody," he said.
Militancy gaining ground
Political analysts said the growing activities of banned militant outfits and madrasas linked to them wee denting the religious harmony that existed in the province.
Veengas, a Karachi-based journalist who covers non-Muslim communities, said such attacks on the Hindu community were aimed at killing the spirit of religious pluralism that had always been the hallmark of the Sindhi culture. 
She said proscribed extremists outfits were strengthening their bases in Sindh, especially in the districts of Umerkot and Mithi, where non-Muslims lived in majority.
"The unchecked growth of madrasas, most of them funded and backed by banned militant outfits, is posing a threat to Sindh's non-violent traditions", said Veengas.
Bilawal condemns
Pakistan People's Party Chairman Bilawal Bhutto Zardari has instructed party MNA Ramesh Lal to visit Kumar's family and offer condolences on his behalf.
He also asked the provincial government to ensure peace and harmony in Ghotki and other part of the province. He said anti-social elements fanning hatred and violence should be reined in and punished.