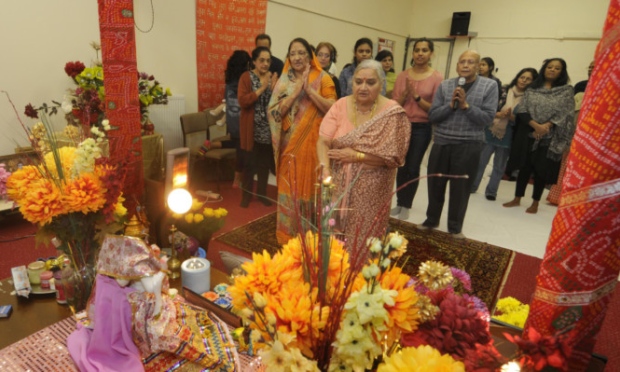 A colourful ceremony at the Tayside Hindu Cultural Centre.
Tayside's only Hindu temple is preparing to celebrate its 30th anniversary amid fears it may be forced to close its doors.
Tayside Hindu Cultural Centre, in Taylors Lane, off Perth Road, Dundee, will mark its major milestone on Friday with a special event, featuring performers, from 7pm.
However, the charity, which relies solely on donations, is facing an uncertain future with falling attendance and a rent review looming.
The centre is used by a diverse group of Hindus who speak many different languages. Religious services are held on Sundays and the centre also organises cultural celebrations and runs a number of community activities.
Founding members of the centre, Chaman Lal Dogra, Prabhu Manpuria, Gopal Krishna and Ram Swarup Basra, are looking forward to the 30th anniversary celebrations but are troubled about the future.
Prabhu Manpuria, who is also vice-chairman of the centre, said: "We started more than 30 years ago when some of us got together in a hall somewhere and we decided that we should have a place of our own where we can come and worship and have social networking.
"We started small scale, collecting some money, then some of us approached the council and as a result we got this place.
"It started as a temple, which it still is, but now it is also a community centre."
The charity pays a peppercorn rent to the council but could have to find an extra £200 a month if the rent is increased.
Prabhu Manpuria added: "Before this we had no place of our own to go. Most people were just worshiping in their own homes.
"At the moment we are having a bit of a problem. The council are going to ask us for an amount of money per year which we don't have. I don't know what we are going to do."
Pandit Ravi Tewari, religious teacher at the centre, said there are an estimated 700 to 800 Hindus in Dundee, and if even 10% turned up it would be a big boost for the centre.
Chairwoman Naina Penman added: "If this centre closes there is nowhere for our community to go. Our donations are less than what they want to charge in rent."
A Dundee City Council spokesperson said: "There is ongoing and direct dialogue between the tenants and the council."