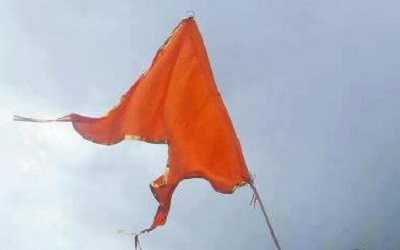 Different Hindutvadi organisations and Shiv Sena (SS) workers staged demonstration in the front of Juna Rajwada police station today in Bhavani Mandal near the temple to protest against puja of the old-age idol of Goddess Mahalaxmi with a wrong method with the idol wearing a "Ghagara-Chooli"on June 9. In traditional 'Puja', 'Sari and Khan' is used for the Goddess idol.
An unknown devotee dedicated a "Ghagara-Choli" dress to the Goddess Mahalaxmi and handed over to Shreepujak, who performed a 'Puja' with idol wearing the gifted dress. After a picture of this puja went viral on social media, devotees expressed protest against 'Shreepujak', who performed the puja.
Workers of SS and different Hindu organizations including Hindu Ekata,Prajasattak and Marathi organizations, led by SS district president Sanjay Pawar, gathered in front of the Juna Rajwada police station at Bhavani mandap this afternoon and staged demonstrations against Shreepujak, shouting slogans.In a statement, Mr Pawar said 'Shreepujak mandal', who performs the daily 'Puja' of the old age idol, should have been conscious of his limitations.