HSS Volunteers Provide Relief to Hurricane Harvey Victims
Volunteers from the Houston Chapter of Hindu Swayamsevak Sangh USA (HSS) sprang into action following the devastating impact of Hurricane Harvey on the greater Houston area. Harvey unleashed several days of torrential rains following its landfall Friday, August 25, causing severe flooding in several Houston area neighborhoods.
Over 125 HSS volunteers assisted in the rescue and relief of 100 plus families from the Sugar Land, Katy, Cypress, West Houston and other areas on Tuesday, August 29 and Wednesday, August 30. Reaching out through its volunteer network, HSS was able to organize several boats and SUVs to assist in its rescue efforts.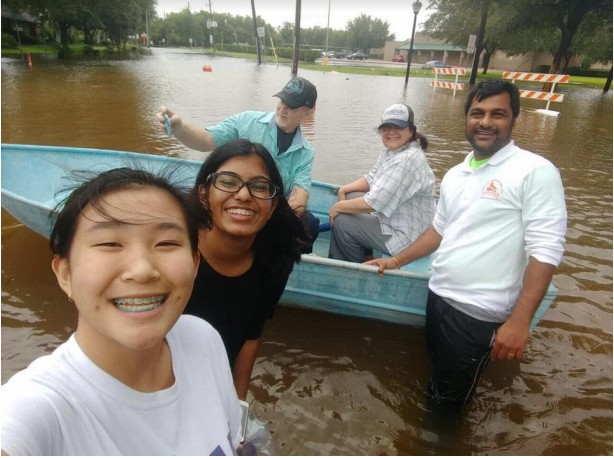 HSS actively involved in rescue operations by boat
HSS volunteer Madhukar Adi, HSS Houston chapter co-director coordinated the rescue efforts in the New Territory neighborhood in Sugar Land. He said "HSS always taught him selfless service,
in fact the literal meaning of word "Swayamsevak" in HSS name means service with self- motivation." This inspired him and in spite of damaged roof of his home, he came out with a boat and started rescue activity for people stranded in heavy flood.
HSS also assisted over 200 international students from India attending the University of Houston who were stranded on the top floor of their apartment building near campus. In addition to helping the students move to a shelter and providing them food, HSS reached out to the Consulate of India to provide additional support. As Consul General of India in Houston Dr. Anupam Ray noted, "the volunteers of Hindu Swayamsevak Sangh USA went out into flooded areas by boat and truck to rescue fellow Americans".
Nearly 25 HSS volunteers are also hosting over 40 families in their homes, preparing mass scale meals at collective location and then distributing that in shelters and to stranded families, served Houston Food Bank at Portwall St with about 50 plus volunteers from Aug 30 and onwards for one shift, buying and distributing necessary items to community shelters in Cypress and Downtown area.
HSS helping at Houston Food Bank
HSS also worked closely with other community organizations for more effective help in this scenario, shared its resources. Achalesh Amar, coordinator of Sewa International Houston Chapter expressed as: "we are proud of our partnership with HSS volunteers in this gigantic task.
HSS volunteers were perhaps the single largest group who were able to work with us in rescue and relief operations throughout Houston due to their wide network and self-discipline. Their dedication is truly inspiring".
HSS is committed to providing as much support as it can to the greater Houston area until all families fully recover from Harvey's impact.
HSS world-wide convener Saumitra Gokhale & HSS volunteers actively engaging in Harvey relief with Sewa International
HSS conducts a structured values education program through its 150 chapters nationwide to develop strong character and teamwork and leadership skills and to organize a dynamic and flourishing Hindu-American community. For more information, visit www.hssus.org.
Source: World Hindu News (WHN)