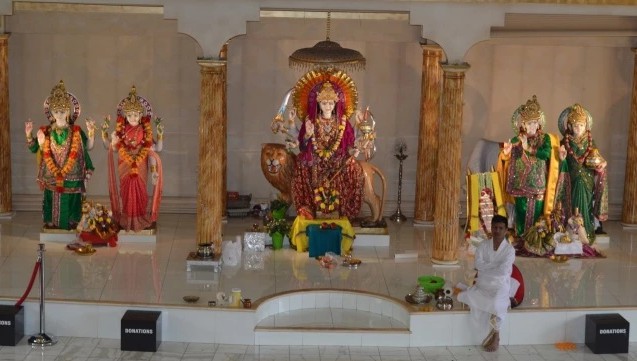 MAHWAH, N.J. — In the eight years since the Hindu Samaj Temple opened in Mahwah , it's attracted thousands of Hindus from a 50-mile radius.
They worship. Children take classes. Families celebrate special occasions in the community center.
"We dreamt about a temple which had the vision of unity," said Dinesh Khosla of Saddle River, a law professor credited with the vision.
"There are so many gods and goddesses. Most temples are devoted to one god or one goddess," he explained. "But almost every manifestation of gods that exist is in our temple."
So a whole Hindu pantheon resides at Hindu Samaj Temple, known as a "mandir" in Sanskrit.
That's why people from Bergen, Passaic, and Morris counties travel to the place, Khosla said. People from Westchester and Rockland counties in New York get to know each other there, as do some from as far as Fairfield and New Haven counties in Connecticut.
The deities in the temple are manifestations of the three different aspects of God. Hindus believe in a trinity of divinity: the creator of life (Brahma), the preserver of life (Vishnu), and the destroyer of evil (Shiva).
Those selected to be in the temple, Khosla said, reflect different parts and traditions of India.
"If a particular god is adorned in orange cloth and is made of black stone, we follow that tradition," he explained. "All the deities have very colorful uniforms, representing all the desires of the people in terms of how they should be dressed."
Each deity, carved from a single slab of marble, has four sets of uniforms, which are changed seasonally, according to Khosla.
"If anything breaks in the process of carving, they have to start again. They cannot glue it because God is one," he said. "There's no fragmenting. There's no patchwork."
The domes of the entry rotunda are painted with symbols that span all of India — peacocks, the national bird; elephants, which stand for wisdom; and lotuses, which symbolize inner prosperity.
There are no members of the temple, which has a mailing list of 3,000 people. There is no concept of conversion to the religion, either.
Similarly, there is no hierarchy of importance among those who go there, Khosla explained. The $14 million center was built with donations– the lowest $3, the highest $610,000. How much people give has no bearing on their stature in the community.
Many people volunteer long hours to keep the place going.
One is Dilip Subhedar, a Suffern anesthesiologist and chairman of religious affairs. He and three others make sure that, every day, deities are cleaned, prayed to, and flowered. They make priests' schedules.
They also organize annual holiday celebrations.
"In the end, everything is the same – the trinity," Subhedar said. "But we have so many of the languages, dialects, and beliefs of India represented here that we celebrate 50 holidays."
Anyone —Hindu or non-Hindu, Indian or non-Indian — can come and listen to one of the four priests give talks at the temple, Khosla said. Or take a yoga class. Or study meditation or Indian dance. Or share in the free meal served by volunteers at 5 p.m. every Sunday.
Hindu Samaj wants very much to integrate more with the general community, according to Khosla. When it opened, the temple was vandalized by two youths who took baseball bats to windows and lights.
Today, the two light fixtures at the entrance remain broken. They are a reminder.
"But the Hindu culture is very forgiving. It says these things have to happen as part of growth," Khosla said. "So when you put it in that perspective, then there cannot be an anger."
The temple is open 8 a.m. to 9 p.m. every day.