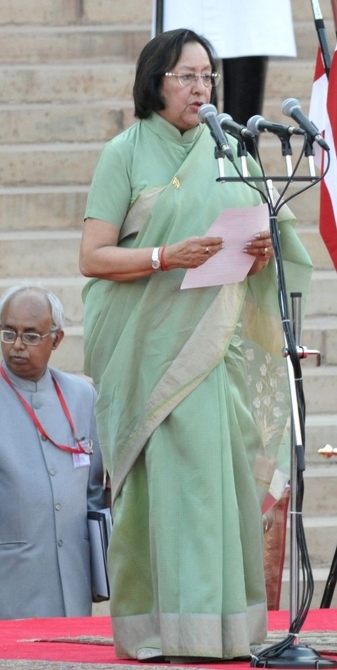 Minority affairs minister Najma Heptullah has virtually endorsed the Rashtriya Swayamsevak Sangh's view that all Indians are Hindus, saying there is nothing wrong with the term Hindu being applied equally to all citizens as a label of "national identity".
 
Drawing a series of analogies from Islam, the only Muslim minister in the Modi cabinet said the Arab world referred to India as "al-Hind" and even invoked Prophet Mohammed and said his aunt's daughter was named "Hinda". Arabia's best sword was called "Hinda" too, the 74-year-old leader said.
In an interview to HT on Wednesday, Heptullah, who joined the BJP in 2004 after spending decades in the Congress, spoke about her party's equation with minorities, the so-called love jihad and policy-making. 
The idea that all Indians were Hindus had "evolved in history", she said. "Anything beyond the Hindu Kush mountains and on this side of the Sindh river is Hind. In Persian, they call it Hindustani… where the people of India live (sic)."
The word Hindu originally referred to the national identity of people who live in this land, she said. "I look at it very rationally. One should not forget history."
RSS chief Mohan Bhagwat had on August 17 said India was a "Hindu nation". The ideological wellspring of the BJP argues that all Indians are Hindus in a cultural sense despite the country's secular Constitution and diversity of religions, races and cultures.
Bhagwat's statement led the opposition and minorities, especially the Muslims, to say they feared a tougher cultural climate under the BJP. Heptullah, however, said the party "recognised" minorities had their own individual identities too. "We respect that."
Asked if it was right to call India's minorities "Hindu-Muslims" and "Hindu-Christians", the minister said, "It is not about right or wrong. It is about history." If some people called Muslims Hindi or Hindu they should not be "so sensitive" because it didn't affect their "faith", said Heptullah.
She argued Muslims doubted the BJP because the party had always been depicted as "anti-Muslim", refusing to be drawn into a discussion about events such as the destruction of the Babri mosque in 1992.
 
"All parties treated Muslims as a vote-bank. That bank has become diwaliya (insolvent) now because they kept taking from it without putting anything back. The BJP manifesto is very clear and comprehensive on what we plan to do for minorities."
 
Asked how her government planned to reconcile the development objectives in the BJP manifesto with the alleged growing assertiveness of the Hindu right, she said, "These doubts are created by the Opposition. Communal riots have been common only in non-BJP states."
On "love jihad", which Hindu outfits see as a Muslim plot to convert Hindu girls, Heptullah mirrored the concerns of the right. If a Muslim girl married a Hindu, her "parents would react in the same way", she said, adding playing up such issues tended to "take the focus away from development".