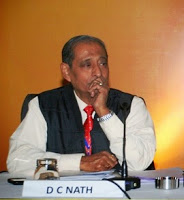 President of Patriots Forum, D.C. Nath was superannuated in January, 1995, as the Special Director, Intelligence Bureau, D.C. Nath (IPS-1960) was associated with the International Institute of Security and Safety Management (IISSM), headquartered in New Delhi, for over 14 years, first as the Executive President & CEO and then as the President & Director General, between February, 1997 and March, 2011. The author of a highly acclaimed book, Intelligence Imperatives for India, Mr. Nath earned high plaudits from all around for two of his very significant presentations on: "Revisiting the Future of India" (2005, London) and "Lessons from India for the War On Terrorism" (2007, USA). He is the only one in the field, combining the experiences of a police officer with specialization in intelligence and strategic analysis and an industrial security expert par excellence. More Bio on D. C. Nath…
News Research & Analysis Files-
Sanskrit scholars to debate Veda dates
OPINION>>>>
September 23, 2015
Dear Friends,
Subject: Debating Veda Dates
After yesterday's "controversial" (to some only) mail, we today come to a pure academic theme of great importance for our age-old Indic civilisation, of which all on the Indian soil should be righty proud.
The Delhi University has planned for a three-day long programme on the dates of the Vedas. Sanskrit scholars from the DU and other universities will debate on when the Rig Veda—and other Vedic literatures—were composed. "They believe the Vedas predated the Indus Valley Civilisation".
· Ramesh C Bhardwaj of the Sanskrit department maintains the Rig Veda is actually of far greater vintage-"composed not later than 5,000 BC"-and bases that argument on "astronomical evidence from within the Vedas." "Astronomy is a science and the dates have been determined by the positions of the stars mention in the scriptures,".
· Bhardwaj dismisses Marxists and "Max Muellerists." He says there's evidence to suggest the Aryans never invaded but were indigenous and developed into the Harappan civilization. That, he says, is the only way to explain the highly evolved and urban culture of the Harappans.
· "Marxist historians begin with Indus Valley but they can't provide information on what preceded the Harappan cities. This gap is filled by Vedic literature," he argues.
Well, friends, let us here add what we had learnt on a very closely linked aspect. In fact, it could even be a part of the same story. A few years back, we heard a highly scientific and erudite presentation at the Vivekananda International Foundation that asserted firmly with a lot of data that the Indian civilisation, earlier known to be about four thousand years old, can now be safely dated to be of 6 thousand years' vintage.
We often find on the net some friends passionately engaging in debates on Vedic issues. We are sure they can very fruitfully join the proposed 3-day long discussion starting from September 26.
(The press report from p.7 of "The Times Of India" dated September 22, 2015, is attached.)
Vandemataram,
Your sevak,
D.C. Nath
(Former Spl. Director, IB)
(President, Patriots' Forum)
Source: Patriot Forum
Disclaimer: The opinions expressed within this article /news /published content are the personal opinions of the submitting author / organization. World Hindu News  is not responsible for the accuracy, completeness, suitability, or validity of any information on this article /news/published content. All information  received is provided on an as-is basis. The information, facts or opinions appearing in the article / news /published content do not reflect the views of World Hindu News and World Hindu News does not assume any responsibility or liability for the same.