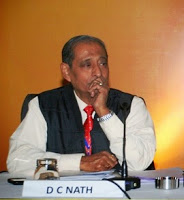 President of Patriots Forum, D.C. Nath was superannuated in January, 1995, as the Special Director, Intelligence Bureau, D.C. Nath (IPS-1960) was associated with the International Institute of Security and Safety Management (IISSM), headquartered in New Delhi, for over 14 years, first as the Executive President & CEO and then as the President & Director General, between February, 1997 and March, 2011. The author of a highly acclaimed book, Intelligence Imperatives for India, Mr. Nath earned high plaudits from all around for two of his very significant presentations on: "Revisiting the Future of India" (2005, London) and "Lessons from India for the War On Terrorism" (2007, USA). He is the only one in the field, combining the experiences of a police officer with specialization in intelligence and strategic analysis and an industrial security expert par excellence. More Bio on D. C. Nath…
News Research & Analysis Files-
OPINION>>>>
April 16, 2015
Dear Friends,
Subject: Netaji Mystery—Towards Some Way Out?
The man of history, whose call for, "Give me blood, I will give you freedom" had stirred the nation as never before, leading to Indians, Hindus, Muslims, Sikhs, all running to join him for sacrificing lives, whose "Jai Hind" is still being proudly upheld by the armed forces, is none other than NETAJI, more known as such rather than by his name, Subhas Chandra Bose. According to most schools of thought now, it was he who was primarily responsible, or the "proximate cause", for India's Independence whenever it came.
An Interesting quote:
Bose, Not Gandhi, Ended British Rule In India: Ambedkar
In an interview to BBC in February 1955, Babasaheb elucidated the reason why the British left India in 1947. Subsequently, Attlee agreed Netaji was the toughest challenge the Empire faced. Several defence and intelligence experts agreed, too.
http://swarajyamag.com/politics/bose-not-gandhi-ended-british-rule-in-india-ambedkar/
Unfortunately, however, he is, in more than one sense, the least honoured among the national leaders, by the nation and by the Indians as whole. Neither is there any worthwhile statue or bust of his in the capital nor is there any important road in the capital after his name. A private body has, however, been fighting for enshrining his memory in the city.
And, to cap it all, his name was something like a taboo to a large section of Congressmen and is still today. The then government had even suppressed the note of dissent by a member of a panel the Government had set up years after independence whether Netaji had indeed died in the air crash.
Is it not a shame to the nation that we have been made to remain ignorant even today about his date and time of Netaji's death? After two made-to-order sham Commissions of Enquiry, serious attempts (conspiracy?) were made in the not-too-distant past, by a very senior Congress functionary to bring back to the country Netaji's "ashes" (?) even when his death and the place, where he was believed to have died, had not been proved.
Things have been made so complicated that two Commissions of Enquiry could not satisfy the nation and so, a third (so far the last) Commission of Enquiry had to be set up for the same cause—to ascertain the exact circumstances around the place and cause of Netaji's. Despite the government not having shown the necessary papers to him, on the same ground as is being offered now, the Mukherjee Commission has done some remarkable work. It is queer that the report of this Commission has not yet been placed before Parliament. We will love to be proved wrong if it is otherwise. In any case, from whatever has now been in available in the public domain, this Commission has proved beyond doubt:
· that there had been no such plane crash at the site on the date and place, as had been given out.
· so, the question of Netaji having died then did not arise.
· that Netaji was found alive in Russia well after that "never happened" plan crash.
Friends, in this background, we invite your attention to the attached copy of the lead editorial in "The Pioneer" of April 16, 2015. It has rightly started:
"The need for non-prejudiced history to be told and written for the benefit of present and future generations is necessary to prevent political parties from twisting historical material to suit their purposes. This is why classified files relating to Netaji Subhas Chandra Bose must be freed from the veil of secrecy."
So, the editorial comments, even if it may seem to some as biased, that "The allegations that these developments (non-cooperation by Nehru and Indira Gandhi) fit into the Congress" pattern of not allowing inconvenient historical material to be revealed as it would dent the image of their iconic leaders and simultaneously raise Netaji's stock, cannot be easily brushed aside. Nevertheless, politics on the issue is not what Netaji Bose deserves (it is good to remember). There must be a satisfactory closure to the mystery behind his disappearance and death. The BJP had before the Lok Sabha election promised to declassify the 'Netaji files'. It has taken the first step in that direction by forming an inter-ministerial panel to do the needful."
Friends, as responsible citizens, we will be required to remain vigilant so that the issue does not slip out of public memory.
Vandemataram,
Your sevak,
D.C. Nath
(Former Spl. Director, IB)
(President, Patriots' Forum)
Source: Patriot Forum
Disclaimer: The opinions expressed within this article /news /published content are the personal opinions of the submitting author / organization. World Hindu News  is not responsible for the accuracy, completeness, suitability, or validity of any information on this article /news/published content. All information  received is provided on an as-is basis. The information, facts or opinions appearing in the article / news /published content do not reflect the views of World Hindu News and World Hindu News does not assume any responsibility or liability for the same.