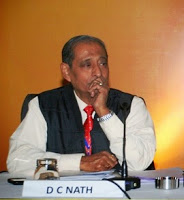 President of Patriots Forum, D.C. Nath was superannuated in January, 1995, as the Special Director, Intelligence Bureau, D.C. Nath (IPS-1960) was associated with the International Institute of Security and Safety Management (IISSM), headquartered in New Delhi, for over 14 years, first as the Executive President & CEO and then as the President & Director General, between February, 1997 and March, 2011. The author of a highly acclaimed book, Intelligence Imperatives for India, Mr. Nath earned high plaudits from all around for two of his very significant presentations on: "Revisiting the Future of India" (2005, London) and "Lessons from India for the War On Terrorism" (2007, USA). He is the only one in the field, combining the experiences of a police officer with specialization in intelligence and strategic analysis and an industrial security expert par excellence. More Bio on D. C. Nath…
OPINION>>>>
September 22, 2015
Dear Friends,
Subject: Reservations And Politicisation In Democracy.
The debate over whether a democratic form of government is better or the presidential form serves better is yet to be settled. In any case, our forefathers, in their wisdom, had decided in favour a democracy. But, perhaps, with half educated or less educated majority and having been ruled by Rajas and Maharajas, a presidential government, with all its attendant risks like the system lapsing into autocracy, would have suited us best.
Democracy has, however, its virtues. Here, it is the people who are the rulers. Our constitution, therefore, starts with:
Quote (.)
WE, THE PEOPLE OF INDIA, having solemnly resolved to constitute India into a SOVEREIGN SOCIALIST SECULAR DEMOCRATIC REPUBLIC and to secure to all its citizens:
Unquote (.)
But, an essential feature of democracy is almost "inevitable" politicisation of whatever a leader of some eminence says. This is exactly what has happened in this case.
When yesterday (September 21, 2015, we saw a brief news item on RSS chief's comments on the need or otherwise of reservation, we were impressed that it was perhaps for the first time a socio-political organisation had made such observations. We prepared a mail for information of our esteemed readers. But, we held that back because by then we had already sent out a mail and did not like to add one more.
Little did we, however, then know that the matter would be so politicised over night. Let us first read that news item from p.12 of "The Hindustan Times" of September 21, 2015.
Quote (.)
Bhagwat: Review reservation policy
21 September 2015, Hindustan Times (Delhi), PTI
Amid the continuing Patel quota stir in Gujarat, RSS chief Mohan Bhagwat on Sunday pitched for a review of the reservation policy, contending it has been used for political ends and suggesting setting up of an apolitical committee to examine who needs the facility and for how long.
"Interest groups are formed because we have certain aspirations in democracy. At the same time, we should remember that through interest groups we should not strive to address those aspirations at the cost of others," he said.
"We should have integral approach of welfare for all. It is sensible to realise that my interest lies in larger national interest. Government also has to be sensitive to these issues that there should not be any agitations for them," Bhagwat told Sangh mouthpiece "Organiser" and "Panchjanya" in an interview.
He pitched for constitution of a committee with representatives from the civil society to go into the issue.
"We believe, form a committee of people genuinely concerned for the interest of the whole nation and committed for social equality, including some representatives from the society, they should decide which categories require reservation and for how long."
"The non-political committee like autonomous commissions should be the implementation authority; political authorities should supervise them for honesty and integrity," he said.
Arguing that the policy of reservations based on social backwardness being extended now is not in line with what the makers of the Indian Constitution had in mind, Bhagwat said had quotas been implemented as per the vision of the Constitution makers questions on the issue would not have surfaced.
"If we would have implemented this policy as envisaged by the Constitution makers instead of doing politics over it, then present situation would not have arrived. Since inception it has been politicised," he said.
Unquote (.)
(Note: One can read the full report at the link provided)
http://paper.hindustantimes.com/epaper/viewer.aspx
The threat areas in the press report quoted above have been highlighted.
Today's press is agog with responses and clarifications on whether reservation is good or needed. The focus is totally on the political need for reservation and not on whether it is good or bad for those for whom these provisions were originally made.
We wish to dilate only on the "policy of reservation". As rightly indicated by the RSS chief, the proceedings of the Constituent Assembly debates should be our guideline, no matter who had or have said on this issue. We did look up the highly learned proceedings, resulting in the decisions in the Constitution.
All these were for a period of 10 years, to be reviewed there after. Instead of that, these reservations have been, as usual in democracy, politicised for vote bank politics and are being continued. And, as for the criteria, there is by and large an agreement among thinkers that these should be on economic basis and not on the basis of caste, community or religion.
In the backdrop of upcoming elections in Bihar, even the BJP criticised the RSS chief and distanced itself from his remarks. Under pressure, the RSS has also in a way started backtracking. That is the pull of politicisation in a democracy. Possibly Bhagwat's comments came at a wrong time, politically.
Be that as it may, the basic need for review of the policy of reservation for minorities like the Muslims will certainly called for urgent action and decision. The governments, both in the Centre and States, have indeed gone far ahead in the minority appeasement policy. We say this on the basis of facts that we have reported upon several times. In other words, we say this without any bias or prejudice against the minority community either.
Friends, without holding any brief for the RSS chief, we feel the suggestion for a review of the existing system of reservation seems valid. It may have stirred the hornest's nest but will have to be honestly faced, without politicising it in this democracy of ours, if possible at all.
Vandemataram,
Your sevak,
D.C. Nath
(Former Spl. Director, IB)
(President, Patriots' Forum)
Copy to:
· The Union Home Minister,
(Shri Rajnath Singh)
· The Prime Minister Office
(Attention: Shri P.K. Mishra)
· Cabinet Secretary
Shri Pradeep Kumar Sinha
· The Minister For Minority Affairs,
(Smt. Najma Heptulla),
· The National Security Advisor,
(Shri A K Doval)
· The Union Home Secretary
(Shri L.C. Goyal)
· Shri Mohan Bhagwat,
Rashtriya Swayamsewak Sangh (RSS)
Yours sincerely,
D.C. Nath
(Former Spl. Director, IB)
(President, Patriots' Forum)
Source: Patriot Forum
Disclaimer: The opinions expressed within this article /news /published content are the personal opinions of the submitting author / organization. World Hindu News  is not responsible for the accuracy, completeness, suitability, or validity of any information on this article /news/published content. All information  received is provided on an as-is basis. The information, facts or opinions appearing in the article / news /published content do not reflect the views of World Hindu News and World Hindu News does not assume any responsibility or liability for the same.