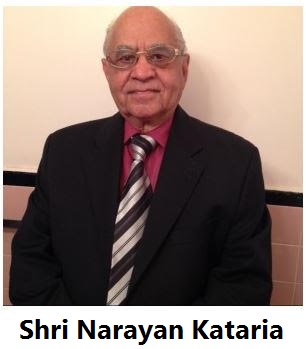 by Gokul Kunnath
This afternoon, I heard of the sudden demise of Shri Narayan Kataria, one of the most prominent Hindu community leaders in America. Katariaji, as he was fondly known, was indeed unique in many ways.
My friendship with him goes back to the early eighties when the World Hindu Council organized a major global event at Madison Square Garden, which attracted the likes of Dr. Karan Singh, the late Poojya Swami Chinmayanandaji and the Maharaja of Nepal, among others. His distinctiveness was evident to anyone who met him. Frank, honest and candid, he was a straight shooter all the way. He was one of the few Hindus who took the advise of Maharshi Aurobindo in its true spirit. Aurobindo had reminded all Hindus about the importance of speaking the truth. For every thing is built on the foundation of truth, he declared quoting the scripture. He argued that truth should never be suppressed for the sake of diplomacy.  It was a call that generations of Hindus who were born in India have ignored to our collective peril.
As an ancient civilization that has survived innumerable onslaughts of every kind, we as a people had been subjected to immense misery and suffering for the past 1,200 years. Unlike the Elie Wiesels of the Jewish world who reminds us constantly of the horrors of the Holocaust, an attitude of negationism had pervaded the educated Hindus of India. The few historians, who had ventured into researching and verifying the horrors of our own Holocausts in these 1,200 years, were ostracized and persecuted for decades. Truth became a casualty of secularism. But in the age of Internet, it became easy for ordinary people to educate the world on the true history of India and Hindus and Katariaji did his part with a great sense of duty.
Katariaji, who hailed from the province of Sindh in the undivided India, had to leave his ancestral home for the newly created India, like millions of his fellow Hindus and Sikhs. The partition of ancient India into Muslim Pakistan and Secular India saw the butchering of close to 1 million Hindus and Sikhs in cold blood and the forced exodus of more than 10 million Hindus and Sikhs to India. He witnessed that tragedy and its aftermath, with his own eyes, as a youngster. But unlike many others of his generation, like Wiesel, he chose to remind the world of the dangers of ignoring intolerance and hatred. An ordinary Hindu was transformed into a true Hindu warrior fighting injustice. He never looked back and the night he left us, he did his last duty by appearing on New York's ITV to denounce the deceptive and biased media reports of intolerance in India by the Hindu nationalist forces.
In America, unlike many of us Hindus who shun demonstrations and protests against injustice, he was a lone voice for years. But at last, he succeeded in demonstrating to the Hindu world that being a spectator and watching the dance of Adharma is not a virtue to be appreciated, but one of the worst vices we need to shun.  He taught us to protest peacefully in broad daylight, in front of embassies and in other public places. He did not stop there. When social media and the Internet emerged on the world scene, he started using them to spread information about the countless injustices against Hindus through out the world, especially at the hands of fanatic Muslims. His email list had grown from a few hundreds to more than 100,000. His You Tube videos reached tens of thousands of people around the world. He created alliances with other religious communities and educated them about our own history and our current predicaments.
He was a true Karma Yogi and the Hindu world will miss him. I will miss him dearly. As far as soldiers go, there is an American saying that fits Katariaji's sudden departure more than any that I know. "Soldiers never die, they merely disappear into the oblivion". I don't know of a better way for Hindus anywhere to salute this great Hindu Hero other than renewing our commitment to fight against Adharma everywhere. May the Atman of this beloved soldier, Shri Narayan Katariaji, forever rest in peace. Om Shanthi, Shanthi, Shantihi!
(The author, Mr. Gokul Kunnath is the President of the US Hindu Alliance)
Source: Global Hindu News