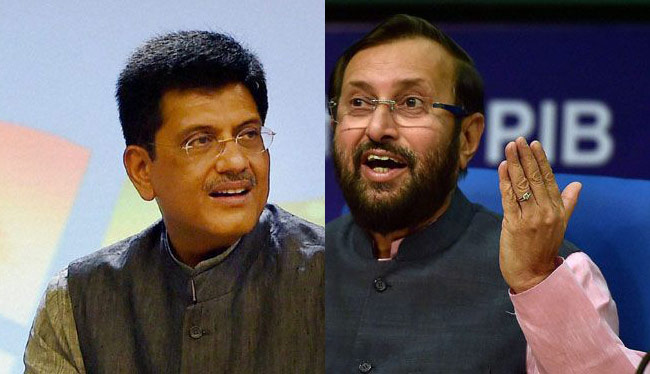 A clutch of ministers of the Narendra Modi government on Tuesday reached out to Sangh Parivar oufits to ensure that they do not run foul of their agendas.
Union Agriculture Minister Radha Mohan Singh, Labour Minister Narendra Tomar, Power Minister Piyush Goyal and Environment Minister Prakash Javadekar called on top Sangh leaders – Krishna Gopal and Suresh Soni – at Madhya Pradesh Bhawan to deliberate with the Sangh affiliate organisations about their suggestions on a host of issues.
Representatives of the Bharatiya Kisan Sangh, the Bharatiya Mazdoor Sangh, the Swadeshi Jagran Manch, the Sahakar Bharti, the Laghu Udyog Bharati and the Vanvasi Kalyan Ashram among others were present during the meeting to brief them about their immediate suggestions on a host of issues concerning their areas of operations across the country.
Sources present in the meeting suggested that Mazdoor Sangh representatives demanded Labour Minister Tomar to regularise all contract workers, particularly those working in government-run institutions. Additionally, they demanded that anganwadi workers across the country be brought under the category of industrial worker to be eligible for EPF and other benefits akin to government servants.
Agriculture Minister Radha Mohan Singh was learnt to have been asked to help sugarcane farmers particularly in getting the disbursal of cane dues. Sangh Parivar representatives are said to have suggested to the government to desist from importing potato in the wake of the new crop that is likely to hit domestic markets. Sources said imports will suppress the domestic price and that will adversely impact potato farmers preparing for harvest in a couple of weeks' time.
Swadeshi Jagran Manch representatives were learnt to have opposed promotion of FDI in the country suggesting that the government should instead promote 'made in India' by Indian companies to ensure that profits remain within the country. Manch representatives, sources said, also asked the government representatives to amend the patent legislation to protect Indian interests and "not bow to US pressure" particularly to safeguard Indian pharmaceutical industry. Environment Minister Prakash Javadekar was learnt to have skirted confrontation with them on the issue of GM crops highlighting that the issue was pending with the Supreme Court and the government will respect court's order on the subject. Manch representatives were learnt to have demanded moratorium against GM crops for at least the next 10 years pending comprehensive scientific evaluation of their lifecycle consequences in the ecology.
Representatives of Laghu Udhyog Bharati were learnt to have demanded the government ministers to ensure that small and medium enterprises get cheaper loans and are also provided single-window clearances like the large corporate sectors avail across the country.
Coal and Power Minister Piyush Goyal and Steel Minister Narendra Tomar was learnt to have been impressed by the Vanvasi Kalyan Ashram representatives about the concerns of tribals in coal and iron ore mine regions. Sources said that they demanded them to ensure that tribals are offered a fixed share in the profit of all mining companies operating in tribal regions.
In an apparent attempt to avoid the impression of RSS calling the shots, Sangh leaders avoided holding the meeting in Sangh's local office at Jhandewalan in Delhi, and instead met at Madhya Pradesh Bhawan in Chanakyapuri locality in the capital.