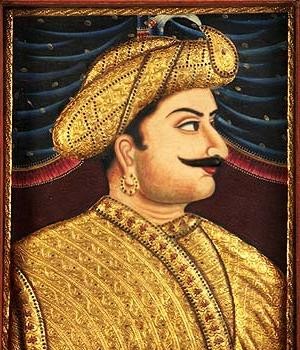 K.M. Rakesh
Bangalore, Oct. 8: The Karnataka government's plan to continue state-sponsored celebrations of Tipu Sultan's birthday, which falls next month, has led to announcements of protest programmes like last year.
The Vishwa Hindu Parishad is poised to embark on a 15-day agitation across Karnataka, while a Christian organisation plans a separate protest in Mangalore.
Karnataka's Congress government had last year held the first state-funded birthday celebrations for the 18th-century Mysore ruler, who fought the British and was famous for his innovations in war technology.
Two government officials today independently confirmed that the administration would likewise celebrate Tipu's 267th birth anniversary this year on November 10.
"The government is busy with Dasara (the local version of Dussehra); a formal announcement (on Tipu Jayanti) with the programme details will be made after the ongoing functions," a source in the minority welfare ministry said.
State VHP organising secretary Keshav Hegde told The Telegraph that like-minded groups would join the 15-day protest.
"We don't have an issue if a group of Tipu admirers celebrates his birthday. Our only issue is with the government spending the taxpayer's money to celebrate a ruler who was communal and had a history of killing and converting Hindus and Christians," Hegde said.
People in the hill district of Coorg claim that Tipu's army raided their hamlets, killed their men and took away their women and converted them.
Christians in southern districts like Mangalore too believe that Tipu's army forcibly converted their people to Islam.
But historian Sheikh Ali, who has authored several books on Tipu, said he was just a powerful king and did nothing that other rulers of the time didn't.
"It was mainly a political issue as people in Coorg, Mangalore and Malabar (north Kerala) were against Tipu. As a result he was very harsh on them, as any king would have done under those circumstances," said Ali, whose works are considered the most authoritative historical accounts of the life and times of Tipu.
"There is plenty of evidence how Tipu donated money to build 156 temples in today's Karnataka alone."
Alban Menezes, president of the Mangalore-based United Christian Association, backed the VHP argument but distanced the Catholic community's protest against Tipu Jayanti from the Hindutva groups' programme.
"Tipu's army demolished 27 churches, including Milagres Church (a 17th-century Catholic church) and took away 80,000 Catholic men, women and children. While some died, most were taken to Srirangapatna (Tipu's capital) and converted to Islam," Menezes said, citing the Ash Wednesday attack of 1784. The present-day Milagres Church was built in 1911.
Menezes said his organisation would, like last year, hold protest marches in Mangalore and observe November 10 as a "black day".
Groups for and against the celebrations had clashed in Madikeri, Coorg, on November 10 last year during the first state-observed Tipu Jayanti.
A local VHP leader from Madikeri, Kuttappa, was killed in the clashes that eventually stopped when the police carried out a baton charge.