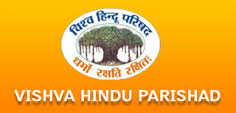 NEW DELHI: The affiliate of the Rashtriya Swayamsewak Sangh is organising a Hindu Mahasammelan on March 1 in Delhi's Jawaharlal Nehru Stadium, to discuss "matters related to Hinduism and society".
The meet, a day after the Union budget, will have VHP leaders from across the country address the crowd on issues ranging from 'reconversion' to 'love jihad'. "We are organising a Hindu Mahasammelan on March 1 in Delhi and intend to do many others in various parts of the country to celebrate the 50th anniversary of the founding of the VHP," said VHP spokesperson Vinod Bansal.
"Sants and leaders associated with VHP (including international working president Praveen Toagdia, a bete noir of PM Modi) will be addressing the crowd on that day and we have booked the Jawaharlal Nehru Stadium for the purpose," he added. Vinod Bansal denied that a guideline has been issued on the topic of discussion and added: "Speakers will articulate their views on the programmes of VHP and issues that we are concerned with and this could include ghar wapsi and love jihad."
The last session of Parliament was log-jammed by a belligerent opposition over 'ghar wapsi' or reconversion to the Hindu faith carried out by VHP. Bansal, however, feels that VHP's agenda should not affect the working of the BJP-led government at the Centre.