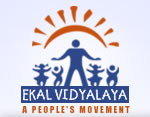 Why Ekal Vidyalaya?
Questions I have been occasionally asked at Ekal events are how is Ekal Vidyalaya different from other rural, school-development organizations? What does Ekal Dallas mean to you? My initial reaction to such questions was to answer, "It's fun and I get to hang with friends." However, given the profundity of both queries, it is only fair to answer with comparable "smartness."
Ekal Vidyalaya is a non-profit organization that works towards a more comprehensive village development approach in India. In the words of one of the most quoted personalities, Lao Tzu once said, "Give a man a fish and you feed him for a day; teach a man to fish and you feed him for a lifetime." Ekal takes action on this Chinese proverbial, empowering youth and, ultimately, the village by emphasizing and promoting self-sufficiency. Furthermore, Ekal has roots nation-wide and strives towards the goal of 100,000 schools by donation of a dollar a day per school and mass voluntarism. To put in perspective: instead of a daily McDonalds McMuffin or a QuickTrip coffee and waiting approximately 10 minutes amidst the late, sleep-deprived job-goers, one can spend 3 minutes on 
Ekal.org
and secure a child's future.
What does Ekal Dallas mean to me? Ekal Dallas plays the role of hosting a collaborative group of creative, intellectual, and risk-taking individuals who not only orchestrate ingenious service projects but also make sure not to sacrifice fun in the mix. For instance, the last project we created was a tree planting project at a local ranch that later allowed the team to ride its horses and cruise in a loaded Hummer H2. The Dallas chapter of Ekal has allowed a group of students with like-minded visions of community-service share ideas and become the best of friends; to me, Ekal Dallas means articulating ideas, then creating a service event, fashioning a fundraiser for impoverished children in India, and chilling with a iced Macchiato at an over-crowded Starbucks with 36 pals.
For more information about how to volunteer and donate, please visit Ekal.org