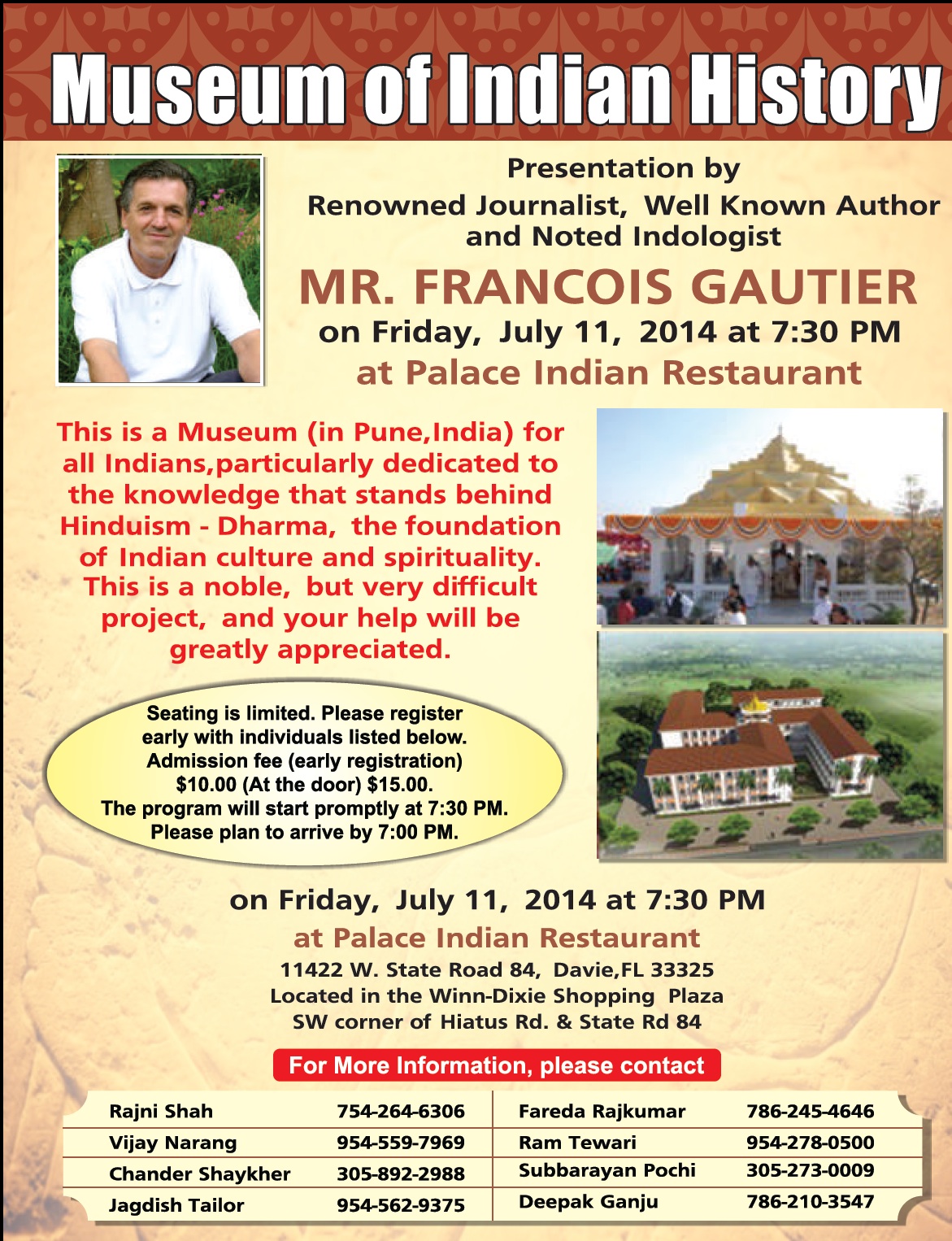 Bharatiya Vichar Manch Monthly Lecture Series
(Indo-American Intellectual Forum, Los Angeles)
Hindu Unity Day – Role of Chhatrapati (Emperor) Shivaji in shaping modern India
July 13th 2014 (Sun), 4:00-7.00pm @ The Art of Living Foundation, 948, W Adams Blvd  Los Angeles, CA 90007
Hindu unity day commemorates the coronation of Chhatrapati Shivaji in 1674 CE, or Vikrama Era 1731, at Raigadh in Maharashtra, India. 
Chhatrapati Shivaji's greatest contribution to the freedom struggle of India lay in the fact that he infused in it the right kind of national idealism, 'Hindawi Swarajya', Indian or Hindu self-rule. By successfully challenging and defeating the dominant Muslim Moghul empire, he established the Maratha Empire that existed from 1674 CE to 1818 CE. At its peak, the empire covered much of the subcontinent, encompassing a territory of over 2.8 million km. The Marathas are credited with ending the oppressive Moghul foreign rule in India.
François Gautier, born in France, is a writer and journalist based in India. He went to India at the age of 19 and spent his first eight years at the Sri Aurobindo Ashram in Auroville in Tamil Nadu. He has been living in India since the 1970s. Francois is now the editor in chief of the Paris-based La Revue de l'Inde (lesbelleslettres.com) and a director of a book collection on India with the same publisher. Francois is married to Namrita and shuttles between Pondichery, Bangalore and Delhi. 
Gautier writes for the online website Rediff.com, The New Indian Express, Dainik Bhaskar, Sahara Samay, Outlook and The Sunday Indian. He has also authored the "The Ferengi's Column" in The Indian Express and "The French Connection" column in the The Pioneer. Among his books are Arise O India (2000), India's Self Denial (2001), A
Western Journalist on India: The Ferengi's Columns (2001), The Guru of Joy: Sri Sri Ravi Shankar and the Art of Living (2002), Rewriting Indian History(2003), A New History of India (2008), Un autre regard sur l'Inde, éditions du Tricorne (2001), Swami, PDG et moine hindou (2003), La caravane intérieure (2005), Femmes en Inde (2004).
Francois has founded FACT (Foundation Against Continuing Terrorism),  a registered non profit organization. FACT is working on building a Chhatrapati Shivaji Maharaj Museum of Indian History in Pune, India.
Francois Gautier
 www.factusa.org
francoisgautier.com fact-india.com
 Editor in Chief, 
La Revue de l'Inde
Complimentary
Dinner is provided.
Please RSVP at http://goo.gl/9wu5V4
Mission  Statement:
To promote dialogue by which Dharmic philosophy, culture, and traditions can positively influence global thought and action.
Past lectures are available at:  www.youtube.com/bharatiyavicharmanch   www.facebook.com/bhartiyavicharmanch.la
Parking: 2636 S Hoover Street, Los Angeles CA 90007, or FREE parking on S. Hoover & W. Adams & nearby streets 
An evening to help rebuild India
Dr. Raj Gandhi
Saturday, July 19 at 7:00 PM
Palace Restaurant Banquet Hall 6131 Peachtree Pkwy Norcross, GA 30092
Message from Host
You and your spouse/guest are invited to a fun evening of dinner and music entertainment to raise funds for the Chhatrapati Shivaji Museum of Indian History being built in Pune, India.
This is a museum for all Indians living in India and overseas, dedicated to knowledge, wisdom, spirituality and cultural heritage which has unfortunately been eroded. A very noble yet difficult project based in Pune on land donated by Sri Sri Ravi Shankar seeking to restore our place in global society needs worldwide support, including your valuable contribution. FACT is a Registered Trust (nonprofit) with Indian, US and UK tax exempt status.
Francois Gautier, the founder of FACT-USA and creator of the museum will make an appealing presentation.

Dinner: $15 per person

Program:
7 PM: Social Hour
8 PM: Presentation
9 PM: Dinner
9.30 PM: Music Entertainment
Warm Regards,
Dr. Raj Gandhi, 770.394.3859
Amitabh Sharma, 404.434.7480
Abhay Joshi, 678.362.9937
Shashi Sidhaye, 770.840.7843
Source: Via WHN Publisher Email