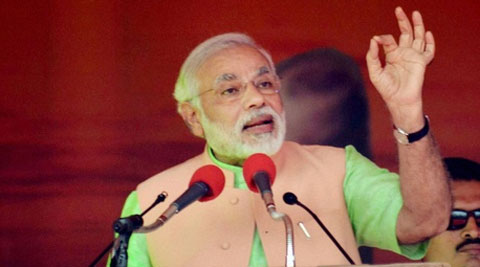 MODI IS RIGHT – NO RELIGIOUS GROUP CAN INCITE
HATRED AGAINST ANOTHER GROUP – MINORITY OR MAJORITY
——————————————————————————————-
Congrats for a well balanced edit. Modi's call is applicable to all
religions.
Tolerance of Hindus is known for ages. Syrian Christians, Muslims.
​P​arsis, Jews and others have been living peacefully in India, enjoying the goodness of Hindus and Hinduism. Parsis top the list in India, in respect of per capital income. Israel parliament;s FIRST resolution
was to thank Hindus – the resolution said that India is the only place in the world, where Jews were not persecuted.
Muslims and Christians have grown in numbers – Christians top the list in respect of education, employment, land holding, per capita income (other than ​P​arsis), ownership of schools, colleges, hospitals etc.
We have very large number of Muslims and Christians in every field –
engineering, medicine, judiciary, government job, MLAs, MPs, ministers, governors, vice-presidents, presidents, chief ministers etc.
You can never find a Hindu interfering with the religious affairs of Muslims and Christians. We have more churches in India than the whole of Europe put together and more mosques than the whole of Middle East put together. Hindus want to live in harmony with the minorities so that the country can progress economically, politically and socially.
Now there is a problem – why? christian numbers are getting reduced in Europe and USA due to demography. Couples are not interested in producing children. So a stage is slowly coming wherein even during Christmas, most churches are sparsely filled or empty.
So Pope gave a call for harvesting souls in India. Conversion is increasing day by day. It devastates Hindu families. According to Peter Wagner, christian expert, India is already having 25% christian population. Since most of the converts retain their Hindu identity for enjoying the benefit of reservation, the actual figure of Christians, IS NOT OUT.
And the recent census shows, an alarming decline in Hindu population.
Naturally, Hindu leaders are worried. They don't want another Kashmir or Kerala. Hence, the advise to Hindus to produce more than 4 children, gar wapsi etc. Hindus may demand a ban on conversion.
Backed by the minority controlled media, Christians and Muslims are trying to terrorize Hindus, BJP and Modi, in the name of church vandalisation, gar wapsi etc. I will discuss two states to show, how one sided secularism is destroying Hindus and Hinduism.
KASHMIR – the Muslims gave a call for Hindu-free Kashmir. Loud speakers blared ​"​HEY HINDUS/KAFIRS – LEAVE YOUR WOMEN AND GET OUT OR GET CONVERTED​"​. After the massacre and ethnic cleansing, Kashmir valley has become hindu-free. Not a word of protest from any quarter – TRUE SECULARISM.
KERALA – The Hindu population in 1901 68.36 – today almost less than 50%. That means, Hindus have become minorities. In fact,
Congress leader Anthony once warned Christians not to indulge in
conversions because, the day is not far off, when minorities will become majority. How prophetic he is!
THE FOLLOWING STATISTICS SHOW HINDU DECLINE IN KERALA
No.of Arts colleges run by Hindus 157
– do- by minorities 340
Govt.assisted schools run by Hindus 284
– do- by minorities 7626
Average land holding by Hindus 69 cents
Average land holding by Muslims 77 cents
Average land holding by Christians 126 cents
No of millionaires in Hindus 58
No. of millionaires among minorities 120
Percentage of bank deposits of Hindus 12.5%
Percentage of bank deposits of minorities 51%
TELL ME SIR, WHAT IS THE POSITION OF HINDUS. Hindu leaders are worried that a Kashmir or a Kerala should not get repeated for hindus in other places. Hence, some awakening.
MINORITY CONTROLLED AND FOREIGN-FUNDED MEDIA IS
TERRORIZING HINDUS, BJP AND RSS BY REPEATED ONE SIDED FACTS
———————————————————————————————-
1. Hussain was supported for his porno of Hindu Gods and Goddesses.
Hebdo's killing was justified by the same secular media. Why?
2. Secularists supported the banning of Satanic Verses and Lajja.
But are supporting Murugan for his blasphemy on Gounders. Why?
3. The media kept quiet when Shirin Dalvi was arrested for
reproducing Hebdo cartoons. Why?
4. The secular media wants to put Modi and the Gujraties IN JAIL for 2002 riots but red carpets Omar and Farook for massacring and ethnic cleansing hindus. Why?
5.The secular media tells the Americans DON'T ISSUE VISA TO MODI. But the same media red carpets the Pakistani leaders for genocide of hindus. Why?
6. Vandalisation of churches in Delhi has been made an international issue by the secular media – destruction of 100 temples in Kashmir and vandalisation of 260 temples in Delhi get no coverage. Why?
7. What about the recent AIB apology to christians? Where are the seculars hiding?
HINDUS ALWAYS WANT TO LIVE PEACEFULLY WITH EVERYONE.
IT IS STRANGE THAT THE MEDIA HAS NEVER ADVISED THE MINORITIES TO STOP CONVERSION BUSINESS. THE CHRISTIAN CLERGY MUST CONCENTRATE ON IMPROVING THE LOT OF THE COMMON MAN IRRESPECTIVE OF CASTE, CREED OR RELIGION INSTEAD OF TRYING TO INCREASE THE NUMBER OF CHRISTIANS.
I quote below, what some great people said about conversion:
QUOTE
MAHATMA GANDHI
Proselytism will mean no peace in the world. Conversions are harmful to India. If I have the power to legislate,I will certainly stop all proselytism. CONVERSION IS THE DEADLIEST POISON THAT EVER SAPPED THE FOUNTAIN OF TRUTH.
THOMAS PAINE – REFORMER IN USA
Of all systems of religion ever invented, there is none more DEROGATORY to the Almighty, more unedifying to man, more repugnant to reason and more contradictory in itself, than this thing
called CHRISTIANITY.
UNQUOTE
I am sure, the Christians and Muslims will desist from divisive
conversion business and work for the prosperity of our country,
along with Hindu brothers.
Thanking you,
Yours sincerely
​​N Mohan
Source: WHN Media Network
Disclaimer: The opinions expressed within this article are the personal opinions of the author. World Hindu News  is not responsible for the accuracy, completeness, suitability, or validity of any information on this article. All information is provided on an as-is basis. The information, facts or opinions appearing in the article do not reflect the views of World Hindu News and World Hindu News does not assume any responsibility or liability for the same.