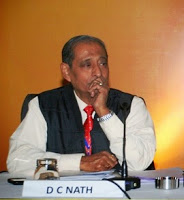 President of Patriots Forum, D.C. Nath was superannuated in January, 1995, as the Special Director, Intelligence Bureau, D.C. Nath (IPS-1960) was associated with the International Institute of Security and Safety Management (IISSM), headquartered in New Delhi, for over 14 years, first as the Executive President & CEO and then as the President & Director General, between February, 1997 and March, 2011. The author of a highly acclaimed book, Intelligence Imperatives for India, Mr. Nath earned high plaudits from all around for two of his very significant presentations on: "Revisiting the Future of India" (2005, London) and "Lessons from India for the War On Terrorism" (2007, USA). He is the only one in the field, combining the experiences of a police officer with specialization in intelligence and strategic analysis and an industrial security expert par excellence. More Bio on D. C. Nath…
OPINION>>>>
August 10, 2016
Dear Friends,
JAI Hind!
Subject:
To Make Others Happy Should Be Our Duty: That is 80/20 Principle.
We had the benefit of study of the management science. In many respects. The management science, as we know, has been in practice in the armed forces for long.
Field Marshall Charles Montegomary had said, "In order to succeed, one has to be hard-working yet of lazy nature". The underlying principle is you must have the time to think. If you keep yourself busy all the time, you will have no time to think and plan for the future.
We had the benefit of studying—courtesy a close friend- to read the classical book on management written by Robert Schuller, titled, "Tough Time Never Lasts, Tough Men Do".
The same friend gave me to read another classic, "The 80/20 Principle" by Richard Koch. Koch is a business entrepreneur. He was a consultant with the Boston Consulting Group. He is a self-confessed "lazy" entrepreneur and lives by the principle of 80/20.
Koch tell us about one Italian economist Vilified Pareto (1847–1923), who had propagated the "Principle of Least Effort", that came to be known as the Pareto Law.
In the book, Koch has explained the 80/20 principle in diagrams:
George K Zipf, a Harvard professor of philology, had earlier discovered the "Principle of Least Effort".
Koch, in his book, "Principle of 80/20, firmly asserts, Our daily living can be greatly improved by using the 80/20 principle." This is in use in business for long and has proved to be a wonderful gospel.
At times, 80/20 principle may appear to be doing less work. That is not exactly correct. The principle of 80/20 is how to use your time the best way.
Richard Koch's book has been a best seller. He is available at richardkoch@bitneternet.com.
Well, Friends, we feel ignorance is not always a bliss. It only hides our foolishness.
'May be more Robert Schullers or more Richard Kochs will appear in times to come to remove our ignorance and may even motivate some youngsters to step into the shoes of Schuller or Koch.
Vandemataram,
Your sevak,
D.C. Nath
(Former Spl. Director, IB)
(President, Patriots' Forum)
For favour of action as deemed appropriate to:
· The Minister for HRD Ministry
(Shri Prakash Javadekar)
· The Secretary for HRD Ministry
(Dr. Subash Chandra Khuntia)
· Cabinet Secretary
(Shri Pradeep Kumar Sinha)
· The Prime Minister's Office
(Shri P.K. Mishra)
· The Prime Minister's Office II
· The Union Home Minister,
(Shri Rajnath Singh)
· The Union Home Secretary
(Shri Rajiv Mehrishi)
Vandemataram,
Yours sincerely,
D.C. Nath
(Former Spl. Director, IB)
(President, Patriots' Forum)
Source: Patriots  Forum
Disclaimer: The opinions expressed within this article /news /published content are the personal opinions of the submitting author / organization. World Hindu News  is not responsible for the accuracy, completeness, suitability, or validity of any information on this article /news/published content. All information  received is provided on an as-is basis. The information, facts or opinions appearing in the article / news /published content do not reflect the views of World Hindu News and World Hindu News does not assume any responsibility or liability for the same.