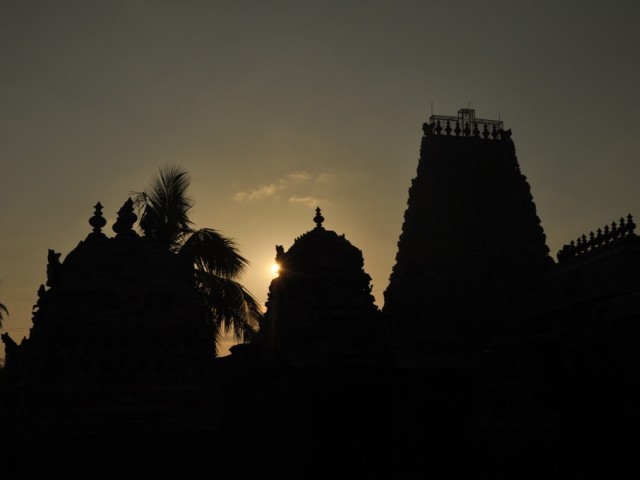 KARACHI: Mari Mata mandir and its idols have welcomed worshippers for over a century. But now, the small temple lies empty all week, waiting for its devotees.
After the Babri Mosque was demolished in Ayodhya, India, in 1992, disturbances broke out all over Pakistan, with many temples attacked by mobs. It was then that a woman placed a 'taaziya' inside Saddar's Mari Mata temple to protect it. But now, it is this very woman who refuses to let Hindus worship at Mari Mata. Lakshmi Bai, who accepted Islam after the riots, is now known as Mai Jannat. Having stopped the temple from being destroyed then, she now keeps worshippers away from the mandir.
"She refused to evacuate the temple after the riots calmed down," Shri Maharashtra Panchayat general secretary Vishal Rajput told The Express Tribune. Instead, Mai Jannat and her supporters threatened women and children coming to pray at the temple, obstructing and disturbing their prayers, even on special religious occasions.
"We can only come here with our families on Sundays," said devotee Divya Keluskar. "The temple is not safe for us otherwise." Meanwhile, the caretaker of Mai Jannat's taaziya at the Mari Mata mandir declined the allegations and refused to comment further when contacted byThe Express Tribune.
The temple shrinks day by day. Spread over 266 square yards in 1978, it sits on a mere 50 square yards today, caught between the Hindu community and Mai Jannat, with land-grabbers chipping away at it. A temple bell hangs in the middle of a small room, with pictures and idols of Hindu deities in a corner. An earthen stove, used to prepare ceremonial offerings and 'prasad', stands in a tiny kitchen. That is all there is left to the mandir.
The Code of Criminal Procedure gives the city commissioner magisterial powers and the authority to take suo motu notice for any land-grabbing case. Karachi commissioner Shoaib Ahmed Siddiqui told The Express Tribune that the protection of minorities would be his first priority, adding that he would take whatever legal action was necessary to do so.
The conflict has also drawn in the people living and working near the temple, which stands on Ratan Talao Akbar Road. "Some influential people who support Mai Jannat asked all the shopkeepers in the area to sign an application against the temple," said a 47-year-old shop-owner from Sister Sequeira Street, opposite the mandir, asking The Express Tribune not to reveal his name. "My shop has stood here for 36 years; we were here when the riots broke out in 1992 and we do not want any trouble."
According to Justice Helpline president Nadeem Sheikh, no new temples have been built in Karachi since 1947. Instead, temples which already existed since before Partition can be renovated, but only after tediously drawn-out processes.
Mari Mata temple falls under Evacuee Trust Property, which sent a detailed letter to the deputy commissioner of District South after receiving an application for restoring the mandir. "The application clearly states that we will take the necessary action against Mai Jannat if the Hindu community approaches us with the leaders of their major panchayats," said the deputy administrator of the Evacuee Trust Property.
The Shri Maharashtra Panchayat submitted an application to the DIG South Zone in May 2014. Although he gave orders for appropriate legal action to be taken for the temple to be opened to worshippers at all times, Rajput says that no actions have been taken four months on. Meanwhile, the temple waits.