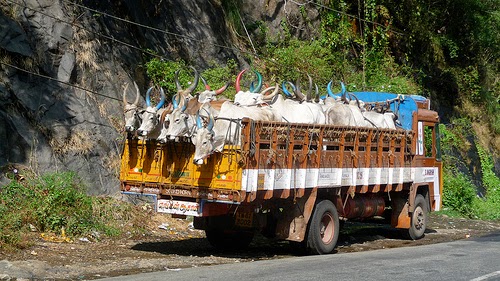 A mob of around 150 people thrashed three alleged cow transporters and stripped one of them naked in BJP-ruled Rajasthan's Pratapgarh district on Tuesday. (HT Photo)
Bajrang Dal and cow protection vigilante group Gau Raksha Samiti blocked National Highway-113 near Ghumana village in Pratapgarh on Monday to demand the release of five men who were arrested for thrashing three alleged cow transporters and stripping one of them.
Pratapgarh superintendent of police Kalu Ram Rawat said the right-wing Hindu outfits demanded the release of the five men who were arrested after police registered a case against a mob for roughing up cow transporters.
The May 31 incident, the latest in a spate of violence over bovine trade and beef consumption, emerged after photos of the alleged assault surfaced on social media.
Read: Vigilantes in Rajasthan beat up trio of 'cow transporters', strip one
Cow vigilantes took over a truck carrying bullocks allegedly meant for slaughterhouses in Gujarat and Maharashtra and beat up the three men on the truck while the fourth person escaped.
Police arrested seven alleged cow transporters – three from another truck seized by them – and one suspected assaulter. After police came under fire for the incident, four more assaulters were arrested over the following days.
Cow slaughter and the consumption of beef are banned in several states, including the BJP-ruled Rajasthan. But beef has become a religiously sensitive topic in the country.
Cow protection units are mushrooming across India and feeling particularly emboldened in BJP-ruled Rajasthan, Haryana, Madhya Pradesh and Jharkhand. Two Muslim herdsmen were killed earlier this year by alleged cow vigilante groups in Jharkhand.
Read: Cows in dire straits in Rajasthan