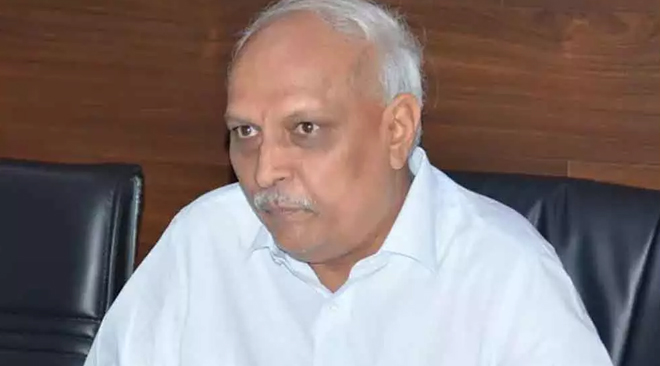 Amaravati, Feb 5 (IANS) Former Andhra Pradesh chief secretary and BJP leader I.Y.R. Krishna Rao has voiced concern over the activity of Christian evangelists at bathing ghats along Krishna and Godavari rivers and urged Chief Minister Y.S. Jagan Mohan Reddy to remove the apprehensions among the Hindu community.
In a letter to the Chief Minister on Wednesday, he said a series of incidents happening in the state people feel whether the government has a hidden agenda.
"There were a series of incidents in the last eight months of your tenure in the state which never happened earlier. Christian evangelists are propagating their religion at bathing ghats both in Krishna and Godavari, which are sacred congregation points for the Hindus."
The former IAS officer wrote that in Pithapuram village Hindu gods in temples were desecrated. He demanded a probe into the incident to bring the culprits to book.
The former Chief Secretary also voiced concern over the statement of a district collector that most of the village volunteers selected belong to one particular religion. He said the government has not contradicted the collector nor initiated any action against him, giving rise to the suspicion whether there was really a religious agenda behind selection of these volunteers by the government.
He alleged that it is a dangerous trend since they will be dealing with the people at the cutting edge level and can be agents of evangelism.
He termed payment of remuneration to pastors and imams from the government exchequer as unconstitutional. Sudheesh Rambhatla (BJP leader) has already questioned this in the High Court. He requested the Chief Minister to withdraw the orders before the High Court says so.
Rao also termed as unconstitutional monetary support for Jerusalem trip and construction of churches. He said they propose to question this in the High Court and demanded the government to "withdraw the orders before the high court directs you to do the same".
Rao said that continuation of people belonging to a different faith in Hindu religious institutions is a matter of concern for the believers since a long time. The government should take steps to identify them and transfer them out of the temples.
He demanded that the verification of the faith of the employees may be rigorously done in future so that only people with strong faith are recruited in these institutions.
–IANS