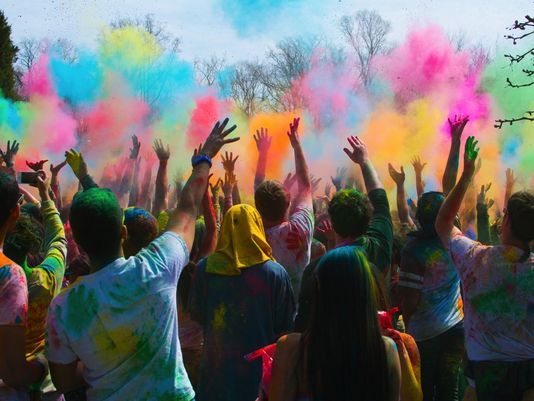 As a way to show their appreciation of love, vibrant colors and the arrival of spring, the UA students in Friends of India plan to bring a taste of Indian culture to the UofA with traditional food and dance to celebrate the Hindu festival of Holi.
Rosalin Sahu, vice president of the Friends of India Registered Student Organization committee, said she hopes this event will educate students on some of the practices of Indian culture in a fun and colorful way.
"Add color to your life. Come for the color fest. Dance like never before and enjoy Indian cuisine," Sahu said.
"Let's go mad together with color, food and dance."
The ancient religious festival will be celebrated with ceremonial dances, customary rituals and brightly colored powders that are smeared onto clothing and thrown up into the air to symbolize the beauty of spring, the triumph of good over evil and the natural colors of the season, according to Hindu tradition.
The Week of Holi event is from 9 a.m. to 1 p.m. Sunday at Wilson Park, 675 N. Park Ave.
Sahu said the event has a long list of activities planned but throwing colors on each other and having fun with water-gun fights, or traditionally referred to as "Dhuledi," is on the top of that list.
"Children and young people form groups armed with dry colors, colored solution and pichkaris, or water-guns, as well as water balloons filled with colored water and other creative means to color their targets," Sahu said.
Because of how old and widely celebrated this Indian holiday is, many Hindu legends are associated with it, Sahu said.
There is one legend that Sahu said suggests Holi is associated with the story of Holika, the sister of demon-king Hiranyakashipu, when another says it is the celebration of the divine love between lord Krishna and Radha.
Syam Madhusoodhanan, UA graduate student and organizer of the event, said he wants to encourage students of all races and religions to attend the outdoor event so that they can enjoy the culturally unique tradition of "Dhuledi" while enjoying a plate of authentic Indian food.
Madhusoodhanan said he believes the celebration of Holi could not have come at a better time with all the current social issues dividing our country.
"(Holi) always shows us to keep a good and strong relationship with others," Madhusoodhanan said. "In this current society people are stranded and they mostly fail fighting against social issues."
Madhusoodhanan said that although the traditional way of celebrating Holi does not involve a DJ, there will be one at the event playing Bollywood music for anyone to dance to.
The Indian holiday has become popular with non-Hindus in many parts of South Asia, as well as people in other areas outside of Asia like Europe and North America which is why Madhusoodhanan said he thinks it is important for everyone to come together to celebrate it.
"Though it has started as a religious festival, there is no religious barrier or language barrier stopping you to celebrate this," Madhusoodhanan said. "For the festival is celebrated by non-Hindus also, as everybody would like to be a part of such a colorful and joyous festival."
Madhusoodhanan said that he believes the holiday holds the virtue of peace and love by bringing people together, mending broken relationships and celebrating our similarities as humans rather than the labels that society gives us.
"The tradition of the Holi is that even enemies turn into friends on Holi and forget any feeling of hardship that may be present," Madhusoodhanan said. "Besides, on this day people do not differentiate between the rich and poor, and everybody celebrates the festival together with a spirit of bonhomie and brotherhood."
For more information about tickets or questions about the event, students can contact Syam Madhusoodhanan at india@uark.edu or contact Friends of India under the "contact us" link on their website at rso.uark.edu/india/.