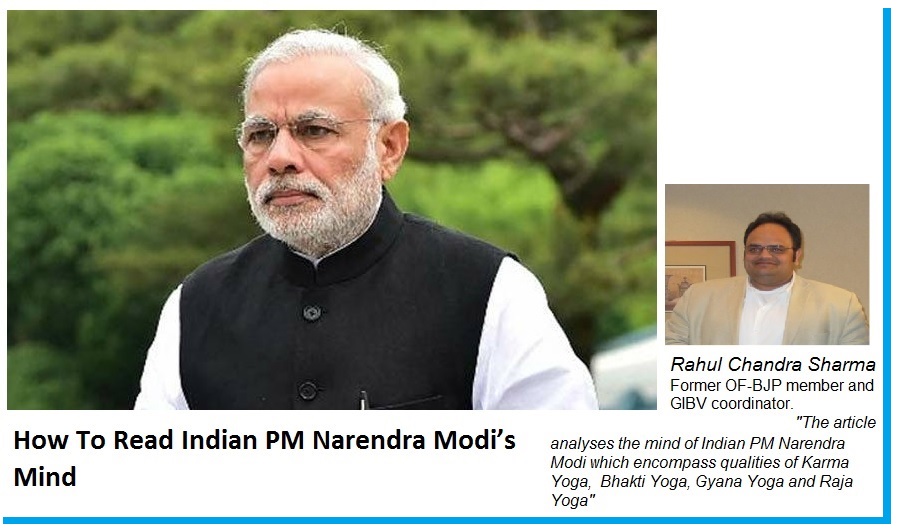 The article analyses the mind of Indian PM Narendra Modi which encompass qualities of Karma Yoga,  Bhakti Yoga, Gyana Yoga and Raja Yoga.
The world today looks toward India and Indians with more respect and regards as compared to past decades, today India is one of the key driver in global economic and military affairs and has proved that it's sovereignty, integrity and culture is not to be taken for granted, a major factor in this phenominal change is the current Bhartiya Janta Party Govt. led by PM Narendra Modi. PM Modi has transformed India from a state which was about to get colonized by Pakistan, China and West under Congress regimes, to a robust and powerful nation of 1.25+ Billion. No nation today has the audacity to make India a Banana republic. The vision, mission and persistence of PM Modi today vibrates from top executive legislature to the bottom of bureaucracy. He is today a role model politician for Millions of Indians and thousands of political leaders abroad. So, what's so special about PM Modi ?  What is his work philosophy ? How to deal with him ? – these are some fascinating questions which this article explores with real life examples.
PM Narendra Modi has a tranquil mindset, he dosen't like panicness in life and want things to be structured and well defined. Majority of the projects he approves have clear vision, aim, objective requirement.
If someone talk softly and politely with him, he will listen with attention and pleasure, on the contrary loud, pompous & fanfare sort of talks irritates him. For example – in his current cabinet and ministeries, majority of men and women are down to earth, soft spoken spokespersons, he has Arun Jaitley and Sushma Swaraj like leaders who are eloquent and charismatic in political dealings and he appreciates that quality. Talk softly,  politely and affirmatively – you will get Modi attention. A Bhakti Yogi mindset.
PM Narendra Modi is no day dreamer, he is resolute and practical person, he deep dives into details and seeks practical evidence for a theory, he also conducts a background check of the story and once convinced – he goes all out for it. For example when Ajit Doval, India's national security advisor in a series of presentations provided PM Modi the network of terror groups in India with facts and figures, he was convinced of the immediate threat and authorized IB & RAW to act without much bureaucratic hurdles and today India is 80% ISI terror free. Present your case with strong facts, figures backed by perceptive research – one can get his project approved by PM Modi. A Gyana Yogi mindset.
PM Modi always gives two chances to his adversaries and his critics, his diplomatic philosophy is clear, First time – a handshake, second time –  a bear hug, third time – a baton hit.  PM Modi believes that it's all humans who run this world and humanity is the biggest asset, he don't believe in direct attack based on historic evidences, instead he has confidence in him that he may turn decade old hostilities into friendships. For example, he offered Pakistan olive branch in 2014, later visited ex- Pak PM native place on his birthday, now he has authorized Army to Pak's terror buts hard. Similarly for China, he visited Beijing, hugged her President, invited him to Ahemdavad, had traditional welcome arranged, when that too failed – he said enough is enough and Dokhlam standoff is there between world two largest military nations.  Similarly for the red terror – Maoist problem, he gave ample of chances to surrender, but on seeings his welcoming gestures taken for granted, he has deployed force. Pehle swagat, phir baat, uske baad laat – is the formula of PM Modi for adversaries.You try to break a deal with PM Modi in your 2nd chance – because there is no third option in this Karma Yogi work methodology.
PM Modi dosen't like profane and abusive language, he has grown in the environmental landscape of RSS, where there is no place for abusive language. Though he has great sence of humor. One can seen saking of many functionaries who used abusive language openly. He likes individuals who honest in their mission, are not joining politics for money and have a sence of loyalty for nation and party. That's one reason you can see that today, top Indian executive including president, speaker of Lok Sabha and other ministers are from modest backgrounds. One can gain PM Modi's attention by avoiding use of cheap public stunts, fake news, abusive language. PM Modi also dislike corrupt people, he can't stand them. A Raja Yogi – A Raja Yogi is pure and nonjudgmental, likes law and order in society.
PM Modi loves loyalist, he has a good system which monitors loyalty towards party, nation and his ideology for new India. He never forgets and forgive backstabbing and betrayal. He is an absolute patriot and appreciates individuals who love their motherland. Most importantly, he knows his enemy very well – his strengths, weakness, opportunities and threats. It's a unwise dream if some individual, organization or a nation thinks that they can hoodwink PM Modi. Today a combination of Karma Yoga,  Bhakti Yoga, Gyana Yoga and Raja Yoga qualities have made him indispensable leader in this great country of 1/6 humanity.