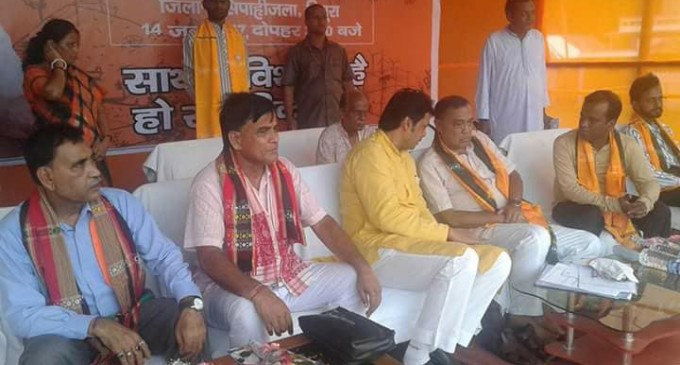 Senior BJP leader and Irrigation, Handloom and Textile minister of Assam Ranjit Datta on Wednesday asserted if BJP comes in power in next election in Tripura would ensure citizenship of Bangladeshi Hindus in the state like Assam but not evict the Muslims.
Addressing a gathering in Sonamura, the western bordering town of Tripura on the occasion of 3rd anniversary of the Modi led government Mr Datta said large scale corruption and maladministration of the Left Front government has created havoc in Tripura that resulted poor development.
"The Central government is generous to provide fund for the development of Northeast and all BJP ruled states of the region have been doing the wonder but in case of Tripura, the state government could not able to harness the benefits because of narrow politics and their sectarian approaches," he stated.
The Central government has several projects for minority people of the country but in Tripura, the schemes were not implemented properly, which affected the development of Muslim and other minority communities of the state.The poverty and sufferings of the people of rural Tripura especially in Muslim dominated pockets have become common phenomena in the state despite getting a huge financial supports from the Centre but it was not happened due to the lack of vision of the government, Mr Datta alleged.
He further alleged that the Rose Valley scam is the biggest issue of Tripura now, as ministers, CPI-M leaders and some bureaucrats were involved in siphoning of poor peoples' money. The government neither declared the amount of money looted by the Rose Valley from the state nor persuaded CBI to enquire into the scam yet. But in Assam, the BJP government brought CBI to investigate the matter.
"It is assured if BJP comes in power; we shall dig out the entire racket that cheated poor people of Tripura with the blessings of the government and the ruling party. Each and every allegations of corruption will be investigated and no one will be spared to establish a honest and credible governance," Mr Datta added.
-UNI