VHP Central Committee condemned Mamata Banerjee to encourage Jihadi violence in Bengal.
Mamata for Jehadis, Muharram violence for Hindus : Dr. Surendra Jain.

Upendra Bharti | HENB | New Delhi | October 17, 2016:: Mamata has transformed Sonar Bangla into a wasteland. Hindus were at the receiving end even during the Left rule, but the kind of atrocities that the Mamata regime has inflicted on the Hindus in the name of Muslim appeasement is something that the Hindus did not undergo even during Islamic rule. Dr. Surendra Jain, Int'l Joint General Secretary of Vishwa Hindu Parishad today also said that the bans that were imposed on Durga Puja (immersion procession) this year were unprecedented. It was only because of the intervention of the Hon. High Court that the Hindus found some relief.
In the press statement issued by the Central VHP,  it is said that  the Jehadi elements, on the provocation of the various Islamic organisations and Muslim Personal Law Board, carried out the most macabre violence in muslim-majority areas. At so many places in West Bengal, beef was thrown by the Muslims to desecrate the puja pandals, the idols were destroyed and temples ransacked. Hindu women were raped, the shops and residences of Hindus were ransacked and burnt down and murderous attacks were carried out on the Hindus, he added.
etc……. Full Report here: http://wp.me/pCXJT-6ZR 
Confusions raised in the reports removed. Now it can be published.
Many Communal Clashes in WB during Muharram.

Islamic vandalism in West Bengal during Muharram, attack on Durga Puja Pandal and Immersion in many places by the Ashura participants. WB Govt fails to protect Hindus. Center must interfere.
S Pandey  and R Debnath | HENB | Kharagpur and Barrackpore | Oct 13, 2016:: Sporadic communal violence erupted in West Bengal  during Muharram and in Durga puja and its immersion processions as reported.On 12th October, 2016 the occasion of Muharram and the next day of Dusshera from 9 pm – 12 pm at Golebazar in Kharagpur town,  the Muslims who were carrying out procession of Taziya from nearby Masjid did continuous bomb blasts, arson, loot and set fire to over 50 places including Hindu shops, Mandirs, bikes, houses, etc causing much damage.According to source reports 3 people were stabbed grievously.Offices & Shops remain closed in a large part of the town fearing escalation of violence and imposition of curfew. After failure of police to contain the destruction, RAF has been deployed.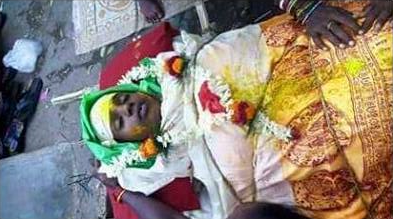 Recently, at same place on 18th September, 2016 at 8.30 PM in main Golebazar market of the Railway Town and in front of the Golebazar Masjid a 18 year old Dalit Hindu boy Rohit was murdered by 5-6 Muslim youths on a minor incident of slight collision of his bike with another bike rode by some of the assassins.Then for about 3 days all shops and offices had remained closed in Golebazar. After involvement of administration and assurance from them, the market place had become normal.As per report, reports of Communal disturbances confirmed during Muharram and Durg deity immersions from the following 10 places of West Bengal:
1. Taltali village, Jalangi PS. Murshidabad dist.
2. Andul Argori village under Sankrail PS in Howrah dist.
3. Manikpur Beltala, Sankrail PS., Howrah dist.
4. Chandannagar Urdibazar and Telenipara, Hogghly dist.
5. Hajinagar, near Naihati, North 24 Parganas dist.
6. Kalaberia vill. Bhagabanpur PS. Poorba Medinipur dist.
7. Ballabhpara Ghat Hatkhola, Katwa PS. Bardhaman dist.
8. Khargapur Golbazar market. Paschim Medinipur dist.
9. Kharba village, Chanchal PS. Malda dist.
10. Rishipara, just behind Kaliachak PS.,Malda dist.Many such communal clashes are unreported and WB State Govt is ignoring the Jihadi attacks  upon Hindus during festivals of Hindus and Muslims conflicts  each other. For this blatant Muslim appeasement by the state of West Bengal the Govt of India must interfere to protect the religious rights of Hindus in West Bengal.Of late it is also reported in Chapdani and Chandannagore, the Hindus ultimately thrashed the Muslims as a retaliation and stopped some Muharram processions through Hindu areas.…
__Agencies.
Source: https://hinduexistence.org/2016/10/17/vhp-central-committee-condemned-mamata-banerjee-to-encourage-jihadi-violence-in-bengal/