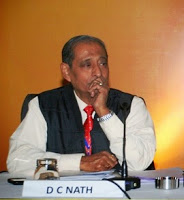 President of Patriots Forum, D.C. Nath was superannuated in January, 1995, as the Special Director, Intelligence Bureau, D.C. Nath (IPS-1960) was associated with the International Institute of Security and Safety Management (IISSM), headquartered in New Delhi, for over 14 years, first as the Executive President & CEO and then as the President & Director General, between February, 1997 and March, 2011. The author of a highly acclaimed book, Intelligence Imperatives for India, Mr. Nath earned high plaudits from all around for two of his very significant presentations on: "Revisiting the Future of India" (2005, London) and "Lessons from India for the War On Terrorism" (2007, USA). He is the only one in the field, combining the experiences of a police officer with specialization in intelligence and strategic analysis and an industrial security expert par excellence. More Bio on D. C. Nath…
OPINION>>>>
January 22, 2015
Dear Friends,
Subject: Christian
​Missionary​ Terrorism in The North East
This may sound somewhat odd because we have been used to hearing about and experiencing what goes by the term "Islamic terrorism". But, to students of North East India, after Independence in particular, the systematic spread of Christianity is as clear as a lily white.
What the noted missionary Rev, Michael Scott of the Baptist Church had achieved, under the "patronage" of the then Indian Prime Minister Pandit Nehru, is for all to see, especially in Nagaland and Arunachal Pradesh. It went to an extent that Nehru finally felt obliged to pack him off.
It needs to be mentioned that the followers of Islam do indulge in conversion, as per their religious tenet of Jihad. It is a sacred duty of every Muslim to convert non-believers to Islam by hook or crook, including 'taqqiah (deception).
The Christians, declaredly a religion of peace, mainly resort to monetary inducements (thanks to endless backing, on which we shall come up shortly), denigrating Hinduism, Hindu gods and godesses and also by means of all conceivable chicanery, worse than "taqqiah".
Let us, with this backdrop, have the benefit of an excellent account on: "Terror In The Name Of Terror Christ In Northeast". The author has started off with the same: "While there have been vociferous denials by the 'secular' media that Islam and terrorism are in anyway related, and there has been only a grudging admission that some Muslims have indeed committed terrorist activities, there has never been a clear focus on the terrorism by adherents of Christianity."
"Indeed, there is almost a clear all-encompassing silence about terrorism perpetrated in the name of Christianity or terrorist outfits that have found support from Christian groups. Whether it is due to the alleged closeness between Church groups and our mainstream media or it is due to other reasons is a point for people to ponder over."
The paper gives a brief overview—"A brief overview of the various terrorist organisations in the Northeast that profess a Christian ideology and are claiming to work for Christians or have received support from organised Christian groups. The article is not exhaustive in its list of support; it is beyond the scope of an article."
Two baseline criteria have been followed by the author for determining organised Christian support to terrorist organisations. "The first is that the organisation must have been deemed a terrorist organisation by the Government of India and banned for more than five years continuously.Knee-jerk bans under political pressure or events have not been considered here.
Further, it must have documented funding from organised Christian groups, and/or must have expressed a Christian ideology and/or must profess to be working for Christians as reason for its terrorism.
With those two baseline criteria, the article starts from those that are currently banned and goes back to those that have been banned in the past, since 1947."
Then, he lists out the main terror outfits aided by Christians in Northeast India with elementary details on them. These are:
· NDFB(National Democratic Front For Bodoland;
· SATP(South Asia Terrorism Portal;
· NLFT(National Liberation Front Of Tripura;
· NSCN(Nationalist Socialist Council Of Nagaland);
· MNF(Mizo National Front);
· MNCA(Manmasi National Christian) ;
· HPC–D(Hmar People's Convention-Democracy)
Friends, the link to the present write—up is: http://blogs.swarajyamag.com/2015/01/07/terror-in-the-name-of-christ-in-northeast/. It is given to enable friends to read the details of the heinous activities, that, we think, we all should read closely.
As the author say, "This article is intended to raise awareness on the various terror groups of the north-east, their activities and what those portend in future." Even the elementary details, the author has furnished, will be sufficient to appreciate that.
Friends, we rest our case here for the present.
Vandemataram,
Your sevak,
D.C. Nath
(Former Spl. Director, IB)
(President, Patriots' Forum)
Source: Patriot Forum
Disclaimer: The opinions expressed within this article /news /published content are the personal opinions of the submitting author / organization. World Hindu News  is not responsible for the accuracy, completeness, suitability, or validity of any information on this article /news/published content. All information  received is provided on an as-is basis. The information, facts or opinions appearing in the article / news /published content do not reflect the views of World Hindu News and World Hindu News does not assume any responsibility or liability for the same.